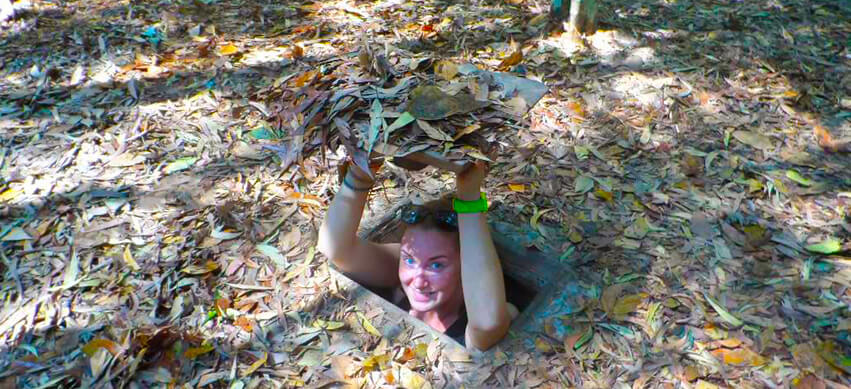 Cambodia Vietnam Private Tour 9 Nights / 10 Days
Tailor-made travel experience, customizable
The private tour included three major cities of Cambodia and Vietnam, journey in the wonderful land of Siem Reap to witness the spectacular Angkor Wat along with incredible complex of Siem Reap, have fun on ox cart ride and the impressive Tonle Sap's mangroves and tall stilt houses with interesting daily life of people living on the water. Continue to see Saigon's French buildings, city sightseeing, the thrilling historical site of Cu Chi Tunnels and the must-see Mekong Delta. Next, fly out to Hanoi Capital where we visit the major city attractions, Old Quarter, historical sites and tranquilly enjoy the relaxation in Halong Cruise admired by Halong Bay's fascinating beauty, islands, limestone formation and indulgent nature.
Guiding Asia Travel
Siem Reap → Saigon → Mekong Delta → Hanoi → Halong Bay
Or Vice Versa
Day 1: Siem Reap – Arrival
International flight is NOT included in the tour price.
Our friendly team (guide and driver) will welcome you at the arrival gate upon your arrival at Siem Reap International Airport then transfers to a reserved hotel for check in and simply enjoy yourselves free time at hotel or explore central city by your own.
Overnight in Siem Reap
*Meal Plan: None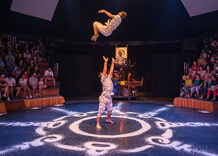 You may opt to visit Siem Reap's most unique, authentic, top-rated entertainment! – Phare Cambodian Circus that won the Guinness World Record and it is the only unique Phare Circus performance (no animals) which is unlike any other circus in the world: theater, story, dance, high-energy music and circus arts, and impressively inspires Cambodia culture and arts etc.
Day 2: Full Day Guided Angkor Discovery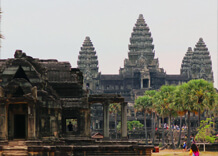 Breakfast is served at hotel. We're journeying out of hotel at 8.00am the South Gate of Angkor Thom atop 4 giant faces that religiously represents compassion, sympathy, equanimity and charity. Stroll around Bayon temple consisting of more than 200 smiling faces in stone, admired by interesting temples including Baphuon, Phimeanakas, terrace of leper king and terrace of elephant. Resume the journey to visit Ta Prohm temple adorned with the stunning, amazing tree roots where Lara Croft Tomb Raider was filmed.
Enjoy Khmer set lunch followed by a soft drink or fresh coconut juice at a selected local restaurant.
Afternoon, continue to witness the marvelous Angkor Wat – the world's heritage listed by UNESCO in 1992 and the largest unrivaled monument in the world. Built by Suryavarman II in 12th Century, Angkor Wat is considered as one of the top destinations in Asia and is a must-see in your lifetime. Learning from your tour guide the amazing history, its ancestral incredible, architectural masterpieces and the finest carvings dates back to the Khmer Empire when it dominated the largest parts of Southeast Asia.
Note: Visiting beautiful sunset is available at Phnom Bakheng, please speak to our tour guide to manage this for you. This is a hiking up (Approx. 30 minutes/way) to the hill and it's always touristy or skip it if you feel tired.
Overnight in Siem Reap
*Meal Plan: Breakfast, Lunch
Day 3: Oxcart Ride, Kampong Phluk Village & Apsara Performance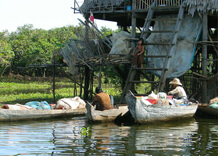 Breakfast is served at hotel. We head out of hotel at 8.00am for countryside sightseeing along with a visit at local market to see interesting trades. Next, we grab the opportunity by taking ox cart ride (short ride only) venturing through home gardens overlooking rice fields, interact the local people and come across animals, and stilt houses. Continue heading to Kampong Phluk village of Tonle Sap Lake. We process to take a boat trip along canal toward the centre of Kampong Phluk then the boat slows down to let you enjoy the surrounding admired by amazing houses atop high poles, come across the highlight of fishing activities as well as see people selling fruits/vegetable/meats on their boats, you sometimes see kids in student uniforms coming back from their classes. Witness how life works on the water and how people make the lake as home then we resume take canoe to explore the pleasant mangroves, enjoy the serenity while taking picturesque photos and you may see a few waterbirds. Continue by our main boat to see the great lake of Tonle Sap, learn from your tour guide about ecosystem and its rich biosphere reserve. Return hotel for break and refreshment.
Evening, transfer to have Khmer set dinner followed by traditional Apsara dance performance at a selected local restaurant.
Overnight in Siem Reap
*Meal Plan: Breakfast, Dinner Show

You can extend a few days if you really love to explore more in Siem Reap, there are a lot of things to do and see included Kulen elephant forest, Phnom Kulen waterfalls and other ancient temples with the intricately carved Banteay Srei or even unique Phare Cambodian Circus that won The Guinness World Record.
Day 4: Siem Reap - Flight to Saigon, Vietnam
Breakfast is served at hotel. Enjoy the rest of free time in Siem Reap before transferring to airport for flight to Saigon, Vietnam.
Upon arrival, you will be friendly greeted by our escort guide and driver then transfer to a booked hotel in Saigon and simply have free time after check in.
Overnight in Saigon
*Meal Plan: Breakfast

Day 5: My Tho – Mekong Delta Tour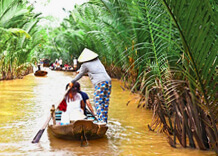 Breakfast is served at hotel. We set off 8.00am out of the bustling Saigon straight to My Tho boat pier where we process to embark a local motorboat which slides on Mekong Delta overlooking islets, fish farms and floating houses admired by fishing and trading activities on boats. In Unicorn Island, we will be pampered by Vietnamese traditional music depicting a folk art rooted from South Vietnam and get refreshed by tropical fruit tasting. Continue by canoe, we explore the natural beauty of Mekong canals with lush beautiful coconut trees stretching at both sides until we enjoy the walking tour to observe bee keeping farm and sample honey tea before having lunch. After lunch break, we catch our regular boat to coconut candy workshop to learn the processing of how coconut candies are made, along with a chance to taste and chew sweet candies or purchase a few packs before we get in our awaiting car/minivan and drive back to Saigon City in the evening.
Overnight in Saigon
*Meal Plan: Breakfast, Lunch
Day 6: Cu Chi tunnels, Saigon City Tour & Flight to Hanoi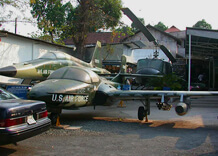 Breakfast is served at hotel. Today we begin our adventure trip at 7.30am out of bustling Saigon City, pass countryside to explore the famous attraction of Cu Chi tunnels which are known as the deadly dangerous trap tunnel networks and was used by Viet Cong army as the facility base to supply food, accommodation, storage, escape rooms as well as strong holes to fight against their enemies during French and American war from 1948 until 1975. Learn from your tour guide about this interesting and sad history of Vietnam, and personally experience the real feeling when crawl into the tunnels to reveal some remnants left after the war ended.
Enjoy Vietnamese lunch at a local restaurant.
Afternoon, we return for guided Saigon City along with War Remnants Museum that you can witness Indochina war history while browsing various items relating Vietnam War, visit the fascinating architecture of Reunification Palace which was the former workplace and residence of the President of the Republic of Vietnam, admired by French colonial buildings of Notre Dame Cathedral and Central Post Office, we then stroll at Jade Emperor Pagoda before go shopping at the famous Ben Thanh market where you observe trading exchanges and you can't absolutely ignore to purchase some souvenirs. Our team transfers you to airport for evening's flight to Hanoi Capital.
Upon arrival, you will be friendly greeted by our escort guide and driver then transfer to a booked hotel in Hanoi and check in.
Overnight in Hanoi
*Meal Plan: Breakfast, Lunch

Day 7: Fully Guided Hanoi City Tour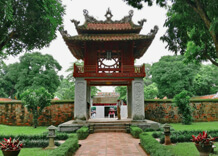 Breakfast is served at hotel. We set off at 8.00am for a fully guided tour within Ba Dinh Square, visit the main attractions included the famous Ho Chi Minh Mausoleum, One Pillar Pagoda with most interesting architecture and 10th century Temple of Literature – the first national university of Vietnam along with rich history. Enjoy delicious lunch at Hoang Cuisine restaurant (or similar).
Afternoon, we observe Hoa Lo Prison which tells you an interesting war from French colonial time to Vietnam and American War. Continue to visit Vietnam Museum of Ethnology – the significant place to witness the best collection, documentation, exhibition and preserving the cultural and historic patrimony of Vietnam's 54 ethnic groups. Next, we take rickshaw (cyclo) explore the popular Old Quarter admired by attractive daily life and bustling local activities. Ending the cyclo ride at Thang Long Opera Theatre, we then enjoy a traditional, unique water puppet show.
Overnight in Hanoi
*Meal Plan: Breakfast, Lunch

Day 8: Hanoi – Halong Bay Cruise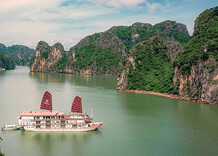 Breakfast is served at hotel. Prepare yourselves with light packing ready to be picked up by shuttle bus between 8.00-8.30am at your hotel and start your trip to explore the most amazing Halong Bay in the North of Vietnam.
Note: Private car/minivan round trip transfers Halong Bay is available upon request.
On the way, we will have a quick stop in the middle of the way to rest. We will reach Halong cruise port around 12.30pm then process the registration and get transferred by tender to Swan Cruise. After safety brief, a welcome drink and checking in, delicious Vietnamese set menu will be served while leisurely cruising further into Bai Tu Long Bay, enjoy kayaking through the karst and breathtaking nature, swimming and relaxing before getting back to the cruise for sunset party.
Evening, have sumptuous set dinner on board and it's your free time to challenge yourself in Vietnamese puzzle games, or gathers your group/family for a board game; try your luck with squid fishing or simply have a cocktail and enjoy the quiet night on the bay.
Overnight in Cruise Halong Bay
*Meal Plan: Breakfast, Lunch, Dinner
Note:
There are many cruise companies operate from standard to luxury cruises to Halong Bay and every cruise companies have their similar cruise itineraries. The above cruise itinerary is detailed according to Swan Cruise's standard itinerary. If you chose to stay at another cruise, cruise itinerary will then be provided at the time you confirmed. If you really love Halong Bay and want to stay a night longer, 2nights/3days cruise is available, so feel free to speak about this with our sale team.
Day 9: Halong Bay Cruise, Back to Hanoi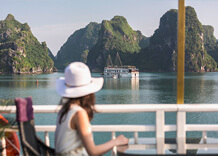 Rise a bit early in the morning for Sunrise Tai-chi section on sundeck or catch a morning view of the stunning bay's landscape with a cup of tea or coffee.
Breakfast will be served in Western style, familiar to you to fulfill your strength and ready for another exploring day to the well-hidden Thien Canh Son Cave for an hour then return to the boat you will have about 30 minutes to freshen up and finish packing.
Around 10.00, attend a Vietnamese cooking demonstration. You can quickly learn a simple but delicious Vietnamese dish or challenge yourself in fruit and vegetable carving. Next, we enjoy a traditional Vietnamese lunch on the boat while the cruise is heading back to the harbor and disembark at Halong cruise port. At 12.30pm: our shuttle bus will take you back to Hanoi and arrive in the evening around 16.00-17.00pm.
Overnight in Hanoi
*Meal Plan: Breakfast, Lunch
Day 10: Hanoi - Departure
International flight is NOT included in the tour price.
Breakfast is served at hotel. Enjoy the rest of free time in Vietnam then our team will pick you up from hotel's lobby and transfers to Noi Bai International Airport for your flight to the next destination.
*Meal Plan: Breakfast

Thank You
Goodbye Beautiful Southeast Asia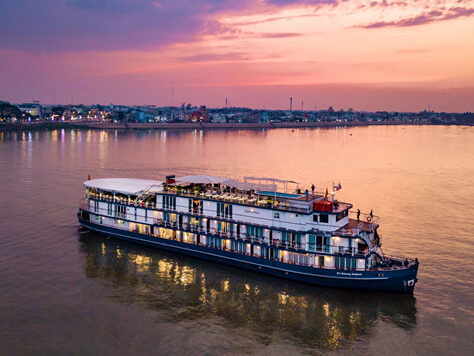 Vietnam Cambodia & Mekong Cruise 12 Days
Vietnam | Cambodia
Saigon → My Tho → Cai Be → Sa Dec → Tan Chau → Phnom Penh → Kampong Chhnang → Kampong Cham → Siem Reap → Angkor
Guiding Asia Travel
The fantastic land tour combines Mekong Cruise from Vietnam via My Tho in Mekong Delta, floating communities, fishing villages, both the mighty Mekong and Tonle River provide the best insight about Vietnam and Cambodia daily life of people…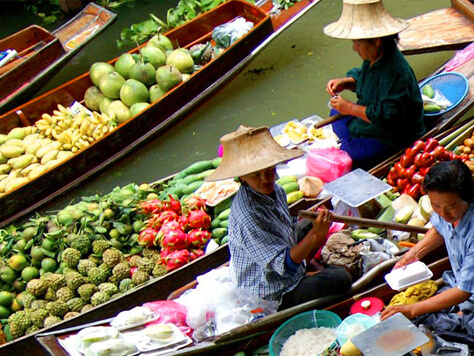 Thailand & Vietnam Classic Tour 10 Days
Thailand | Vietnam
Bangkok → Ratchaburi → Saigon → Mekong Delta → Hanoi → Halong Bay
Guiding Asia Travel
This private tour offers a worth holiday trip to visit two beautiful countries in Southeast Asia included Thailand and Vietnam. Seamlessly, witness the highlight of Bangkok Capital along with main tourist attractions to Grand Palace, impressive Wat Arun…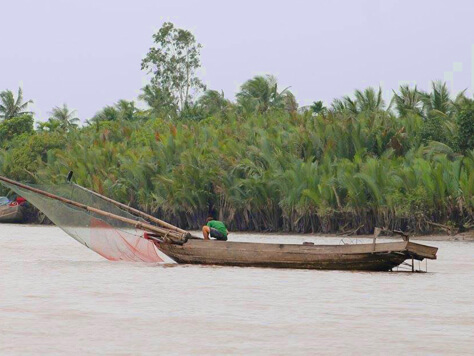 Vietnam Cambodia Classic Tour 12 Days
Vietnam | Cambodia
Hanoi → Halong Bay → Saigon → Mekong Delta → Phnom Penh → Siem Reap
Guiding Asia Travel
This classic tour is fully covered the special major cities of both Vietnam and Cambodia. Ideally starts from Hanoi Capital that included major attractions of city orientation, and pleasantly relax in Halong Cruise to enjoy the famous Halong Bay's beauty…