Thailand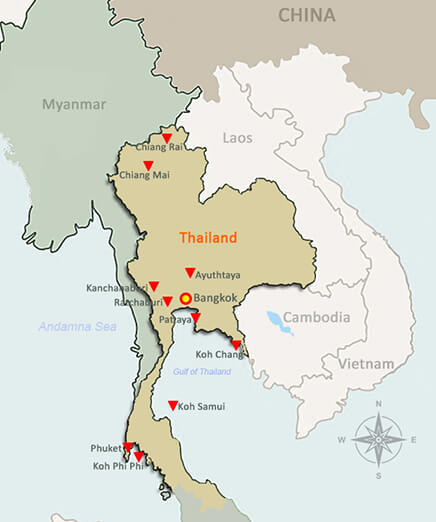 Thailand or Thai is one of beautiful Asian countries in Southeast Asia, with a population of 67 million by the estimation in 2022, the major language in Thai, Buddhism religion and culture were influenced from Khmer-Mon and Indian for many centuries. Sharing the tropical monsoon, the country sits between Andaman Sea of Myanmar in the west and Cambodia in Southeast while the borders share with Laos in North-east, Myanmar in North, Gulf of Thailand and Malaysia in South which both South's and North's temperatures are much cooler than the central area, West and East.
Thailand is truly fulfilled of energetic diversity, from the cultural ethnicity in Chiang Mai, Chiang Rai to the modern, iconic Krung Thep "Bangkok" dotting with the principal Chao Phraya River and the remarkable ancient Ayutthaya Kingdom while the popular beach destinations, natural islands and Phuket in the south impressively attracts thousands of tourists every year.
Bangkok Capital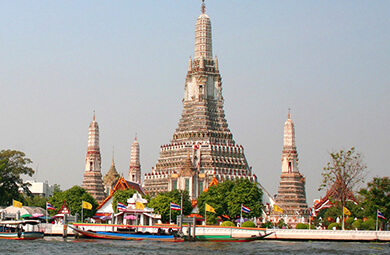 Krung Thep Maha Nakhon or Bangkok is the principle capital of Thailand as well as the cultural, historical, commercial and cosmopolitan city of the country. On the delta of the Chao Phraya River, Bangkok is significantly the major tourist destination of the country, popularly known as the best and cheap shopping center in Asia. The notable Grand Palace browsers some historical buildings and other cultural Thai temples especially the most interesting Wat Phra Kaew or Temple of the Emerald Buddha houses the sacred Emerald Buddha, and tourists can explore royal's residences and pavilions. On the south of The Grand Palace, Wat Pho impressively stores a large reclining Buddha statue in bright gold and it is considered as one of the oldest Buddhist temples in Thailand.
Across the Chao Phraya River, a long-tail boat provides unique sightseeing along narrow cannels of Thoburi town where tourists can have a pleasant walking tour to explore bustling Thoburi, Thai street food and other interesting activities down the streets. Returning by the same boat to Chao Phraya River, both fantastic panoramic views of Wat Arun (Temple of Dawn) and The Grand Palace are awaiting for tourists to click their cameras before wandering the hidden Wang Lang Market – the very local market that not many tourists know about it.
Enhance travel experience of Bangkok, in a Tuk Tuk ride wandering around Bangkok's streets of Phetchaburi Soi 10 is definitely admired, there are vast street corners where tourists can taste variety of Thai street foods and papaya salad while fragrant savoury of grilled meat, seafood, chicken and so on are coming from vendor's food carts. There are other delicious famous Pad Thai and best, freshly based Roti stretching along Phra Athit Road that you should not miss out as well as daring your fingers to pick up some crispy fried bugs and taste tropical fruits at Saphan Khao Fruit Market.
Ayutthaya Kingdom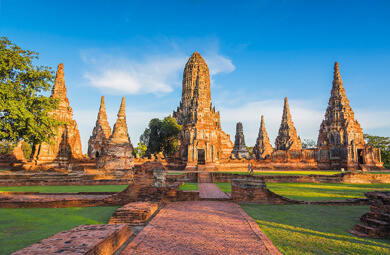 Short name "Ayutthaya" or Phra Nakhon Si Ayutthaya was the former capital of Thailand from 14-18th century and it was certainly considered as the most precious international trade port as well as the great contact between its country and Europe, and Thai developments and the culture remarkably flourished. Later, the capital was moved to Bangkok after the fall of Ayutthaya in 18th Century.
Listed as UNESCO's World Heritage, Ayutthaya has come the notable historical park which attracts travelers to explore its rich history and civilization, the palaces of ancient city, Buddhist temples, statues, monasteries and the fascinating remains of Ayutthaya's ruins.
Locates on the confluence of Chao Phraya, Lopburi and Pa Sak Rivers north of Bangkok, Ayutthaya can be reached by overland with 1 ½ hours (80km) from Bangkok.
Floating Market, Ratchaburi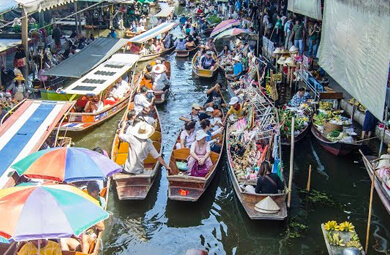 Visiting Thailand is not probably enough if travelers actually overlook Damnoen Saduak floating market in Ratchaburi Province to the west of Bangkok. Damnoen Saduak floating market is the most popular floating market and one of the major tourist attractions in Thailand, where travelers are admired to board Thai traditional wooden boats to interact with local people and vendors selling food, handicrafts, souvenirs, finger snacks, colorful fresh fruits, and flowers on their boats. However, a day exploration to Damnoen Saduak floating market is always enhanced by Maeklong Railway Market – the place local vendors sell their fresh vegetables, fruits, meats and other goods by the railway track. By the time of the arriving train begins to ring, vendors rush to pull down their stall's canvas to let the train goes pass and pull it back later. Maeklong Railway Market is locates in the neighboring Samut Songkhram province and it is about 20km from Damnoen Saduak floating market or approx. 1.40 hours by overland from Bangkok.
Kanchanaburi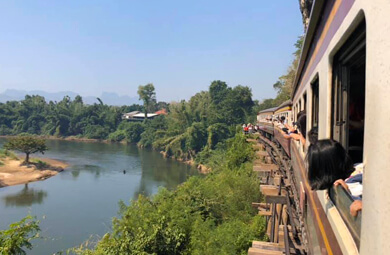 For those who are interested in the history of World War II, The Death Railway or simply called Thailand-Burma Railway was constructed by Japanese, linked Thailand with Burma in the purpose to aid their army in Burma. Over a hundred thousands of prisoners of war and Asian slave laborers lost their lives during its 16 month construction, those were forces to work exceedingly, and died from infectious diseases, starvation and exhaustion.
The iron bridge over the River Kwai offers the fascinating surrounding and it has become one the most popular destinations where tourists always stop to take picturesque photos of its serene views and during the sundown. There are more things to see including Kanchanaburi War Cemetery, Death Railway Museum and Research Center which provide deep understanding and meaningful to Death Railway's history.
A local train from the River Kwai to Nam Tok Sai Yok Noi, running on the Tham Krasae railway bridge that cuts through the mountainside provides the fabulous experience of the breezing countryside, river, forest and mountain views. With an overnight in a floating accommodation, tourists will gain a visit to Namtok Sai Yok Yai which is considered as the most beautiful waterfalls in the region, along with boat and bamboo raft excursions as well as swimming.
Activate your legs by walking through the trail of Hellfire Pass is something extraordinary when travelers make the journey back to Bangkok.
Phuket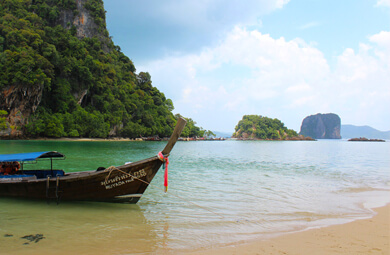 Phuket is famously considered as a relaxing home for beach break after exploring Thailand's attractions and its wonders, the most extensive Island of the country whose many beautiful white sand beaches and luxury resorts are stretching at along the seaside of the western part especially along Patong, Kamala and Bang Tao beaches but for those who look for tranquil atmosphere, there are still nice beaches at the far south including Rawai and Yanui. Sits on the Andaman Sea, south of Bangkok, Phuket has a lot of things to explore, do and see from the nature to the historical old town and temple, Phuket markets, night shows, nightlife, and even Phuket Fantasea.
Phi Phi Islands, Krabi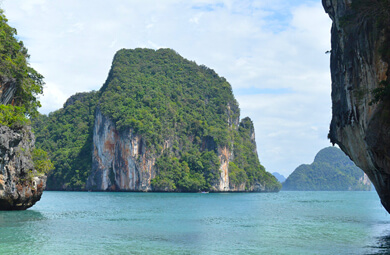 A group of tropical islands locate between the famous Phuket and beautiful Lanta Island, in Krabi Province. Phi Phi is considered as the best beach destination for a peaceful getaway for all year round, hotel resorts and other type of accommodation are booked up quickly when the peak season falls from the mid of November to the January. Phi Phi Don is the largest island and generally occupied by hundreds of world tourists because of its fascinating beach views with limestone formations and beautiful white sandy beaches, and the second large Island Phi Phi Leh features blue crystal bays and calm beaches while other smaller islands are more tranquil and less touristy. Phi Phi is not only the beach paradise for relaxing but also a great spot for outdoor water activities including snorkeling, diving, sailing, boating, fishing and underwater discovery.
Phi Phi Islands are reachable by daily public ferry which takes 2 hours from Phuket and 90 minutes from Krabi coast, speed boat is about 50 minutes from Phuket and 30 minutes from Krabi.
Koh Samui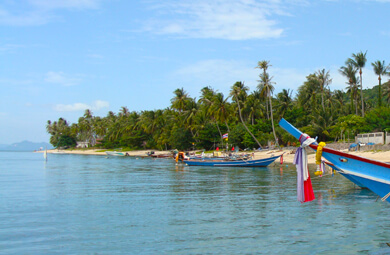 It is not huge different from Phuket, the second largest island of the country, Koh Samui is uniquely well-known for its serenity, naturally beautiful, soft white-sandy beaches and the crystal clear water. This paradise beach island offers the perfect beach relaxation among the calm nature and the less touristy surroundings that you can enjoy yourselves in your own styles on the recommended Lamai beach whereas Chaweng beach is a bit crowded but popularly interesting to wander around. There is wide range of accommodation from standard budget to the high-end luxury resorts & villas, other delicate seafood and western restaurants you can find on the island. Water sport activities, sunset boat tours and private charter yacht are also available.
Chiang Mai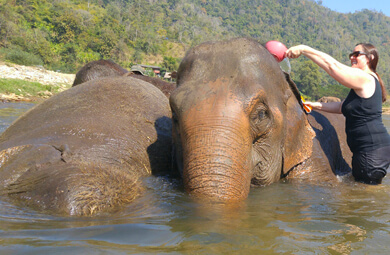 Formerly known as Linna, New City or Chiang Mai was officially established by the King Mangrai in 1296. Chiang Mai is the second largest city after Bangkok, pleasantly locates in northern Thailand and approx. 700km from Bangkok. Chiang Mai is truly a home to Hmong villages, rivers, wildlife, elephant sanctuary and other sacred temples, the specialty about Chiang Mai is the natural beauty, mountainous rainforest, the history and the local culture.
Chiang Mai is one of Thailand's major tourist destinations, attracts thousands of tourists to explore its popular sites including the must-see Buddhist temple of Phra That Doi Suthep, the spectacular views from summit of Doi Inthanon and Doi Pui, Bhubing Palace – the beautifully vibrant gardens of Royal Residence and the exotic daily living of Doi Pui Hmong tribal village.
When November comes around, the exciting time of the Sky Lantern Festival "Yi Peng" is considered as the most unique period of the year, obviously attracts thousands of visitors included Buddhist monks gathering to make good wishes for prosperities and release bad past of life then gently leave the lighting paper lanterns floating into the sky, and it's the perfect time for those who love the challenge of photographing thousands of lighting lanterns in the starry sky.
Chiang Rai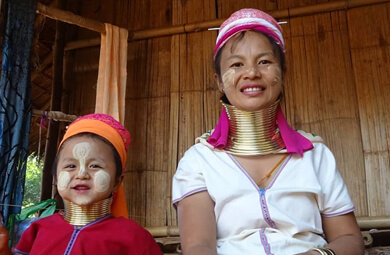 In northern Thailand's mountain range, Chiang Rai is renowned as the sleepy city of culture and arts, sits next to Chiang Mai and shares borders with Myanmar and Laos. From the intricately carved white temple or Wat Rong Khun in unique architecture to Rai Mae Fah Luang Art and Cultural Park which houses Lanna artifacts and culture, Chiang Rai truly offers travelers plenty of amazing cultural and natural sides, tea & fruit plantations, forest trekking adventure, art museums, temples, and the famous Golden Triangle on the conjunction of Mekong & Ruak Rivers, once was the major regions of opium production between the three countries. Golden Triangle Viewpoint is pleasantly admired by the beautiful view of Mekong River, a spot for breathtaking, and there are a lot of things to see and do in the area.
Pattaya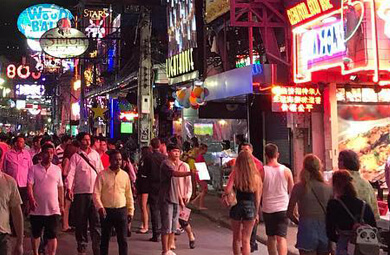 The popularly hustle and bustle city of beach resort situates on the east coast of the Gulf of Thailand, about 150km drive from southeast of Bangkok. The renowned Pattaya's nightlife is curiously attractive after the sundown, the city street and beach roads are always crowded and there are many vibrant night clubs you can chill out, many choices of entertainments, and explore interesting night street activities. Pattaya is actually a nice beach destination for whose have a limited time for Thailand's beach experience and spend a day for swimming, go for island hopping at Ko Lan where tourists can extraordinarily enjoy snorkeling, diving, fishing, cycling and sailing.
Visiting Pattaya can't be without the Sanctuary of Truth temple which is admired by unique carvings in Ayuthtaya style and the picturesque photos of the Sanctuary of Truth and Pattaya skyline can be taken from the nearby Ko Lan Island.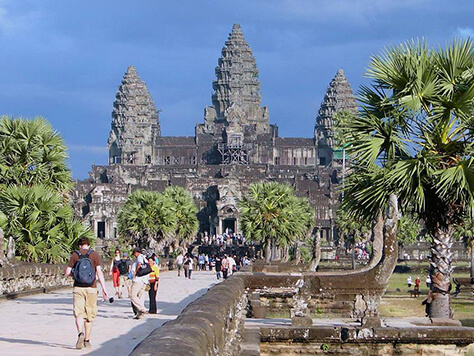 CAMBODIA
Between Vietnam and Thailand
A lot of interesting awaiting for you...
Guiding Asia Travel
One of the best destinations in Asia, the fascinating Siem Reap is famed for its marvelous Angkor Wat, the unrivaled masterpieces & the finest architectures that make Siem Rea become a pearl city of wonder. Distinctively, from Angkor archaeology…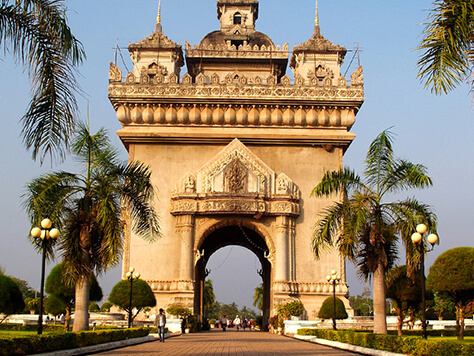 LAOS
Borders with Vietnam, Cambodia & Thailand
More beautiful nature and cultural attractions...
Guiding Asia Travel
Emerges among beautiful Southeast Asian countries and neighboring with China at North, Vietnam from North-east to South-east, Cambodia at south, Thailand from North-west to South-west and Myanmar at Northern west. By the Mekong River…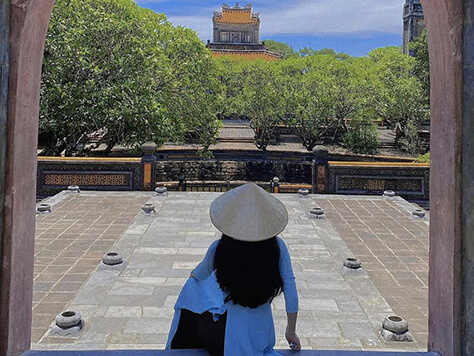 VIETNAM
Borders with Cambodia, Laos and China
Diverse inhabits, natural beauty to cultural sites...
Guiding Asia Travel
The cultures of Vietnam were rooted from various times to times by different rules of their progenitors and ancient dynasties, French colonial and modern Western. From the proclaiming independence from China's rule in 10th century, , Vietnam cultures…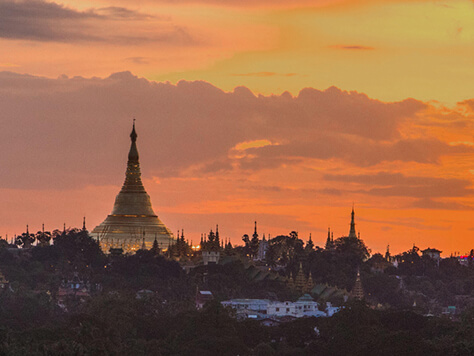 MYANMAR
Borders with India, China and Thailand
From beautiful nature, ancient temples to unique lifestyles...
Guiding Asia Travel
The remarkable Yangon Capital is blessed by Yangon River, Pazundaung Creek and Inya Lake that make Yangon more special with itself skyline dotting with the golden Shwedagon Pagoda while colonial buildings and sacred pagodas have invited…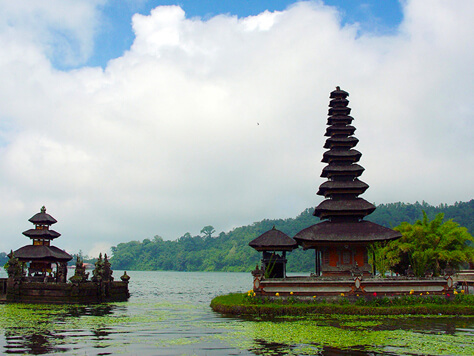 INDONESIA
Borders with Brunei, Malaysia and Java Sea
From natural beauty, famous Bali & ancient temples...
Guiding Asia Travel
A home to enjoy its natural beauty and wildlife, has some of the most biodiverse and stunning landscapes in the world, ranging from volcanoes, mountains, lakes, rainforests, beaches, coral reefs, and islands. Indonesia is also home to many…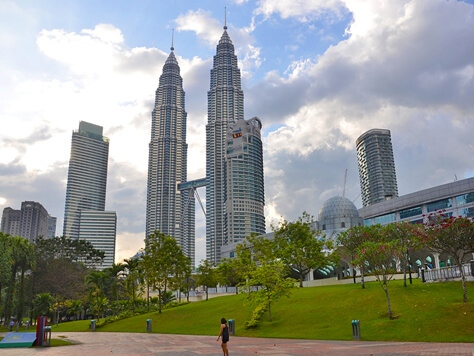 MALAYSIA
Borders with Indonesia, Thailand and Singapore
From the oldest rainforests in the world to famous twin towers...
Guiding Asia Travel
A lovely Asian country to experience its modern attractions and entertainment. Malaysia has many cities that offer shopping malls, skyscrapers, museums, theme parks, and nightlife. The capital city of Kuala Lumpur is one of the most vibrant…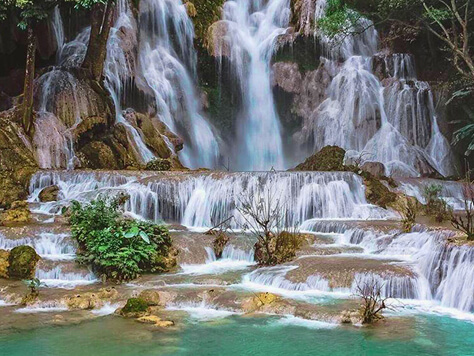 Great Adventure Asia Tour 34 Days
Vietnam | Cambodia | Laos | Thailand
Saigon → Hoi An → Da Nang → Hue → Hanoi → Halong Bay → Siem Reap → Phnom Penh → Vientiane → Vang Vieng → Luang Prabang → Pakbeng → Chiang Rai → Chiang Mai → Phuket → Bangkok (+Ratchaburi & Kanchanaburi)
Guiding Asia Travel
Extensively combines four wonderful countries for those who look for amazing holiday trip to see best destinations and adventure of Southeast Asia: Vietnam, Cambodia, Laos and Thailand. The journey starts from Saigon's vibrant city, the historical…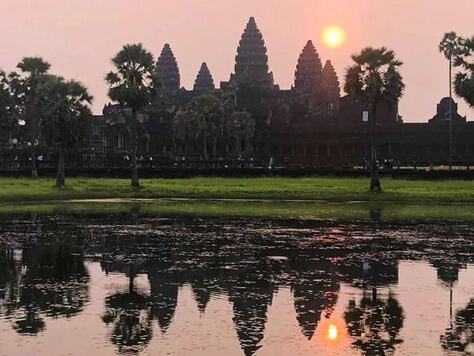 Thailand Myanmar Laos Cambodia & Vietnam Tour 24 Days
Thailand | Myanmar | Laos | Cambodia | Vietnam
Bangkok (+ Ratchaburi) → Mandalay → Bagan → Yangon → Luang Prabang → Siem Reap → Saigon → Mekong Delta → Hanoi → Halong Bay
Guiding Asia Travel
This value journey is perfectly tailor-made and designed for those who are planning amazing holiday trip to see five colorful Southeast Asia countries included Thailand Myanmar Laos Cambodia & Vietnam. Overall, visit to the major attractions…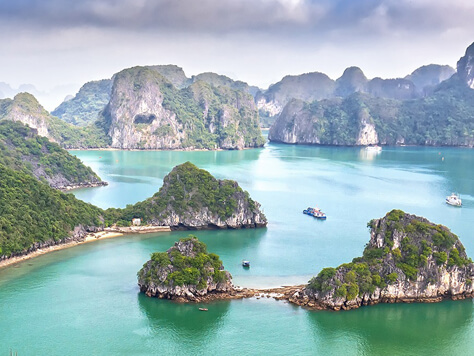 Wonderful Thailand & Indochina 21 Days
Thailand | Cambodia | Vietnam
Bangkok → Ratchaburi → Kanchanaburi → Chiang Mai → Chiang Rai → Siem Reap → Phnom Penh → Saigon → Mekong Delta → Hanoi → Ninh Binh → Halong Bay
Guiding Asia Travel
Ideally combines three wonderful Thailand, Cambodia and Vietnam, an unforgettable holiday trips for friendly family, small groups and couples. Visit the iconic Bangkok's main attractions including impressive architecture of Grand Palace admired…