Indonesia
Indonesia fabulously offers a diverse and fascinating range of attractions for travelers from all over the world. Indonesia is located in Southeast Asia, between the Indian and Pacific oceans. It has a population of about 270 million people, comprising various ethnic groups, languages, religions, and cultures. Indonesia is also home to more than 17,000 islands, some of which are famous for their natural beauty, wildlife, and heritage.
Visiting Indonesia is to experience its rich and diverse culture and heritage. Indonesia has a long history of trade and colonization by different powers, such as the Hindu-Buddhist kingdoms, the Islamic sultanates, the Dutch East India Company, the Japanese Empire, and the Republic of Indonesia. This has resulted in a unique blend of architectural styles, art forms, cuisines, traditions, and festivals that can be seen in different parts of the country. For example, one can visit the Borobudur Temple, which is the largest Buddhist monument in the world; the Prambanan Temple, which is a complex of Hindu temples with intricate carvings; the Istiqlal Mosque, which is the largest mosque in Southeast Asia; and the Tanah Lot Temple, which is a Hindu temple on a rocky island.
Indonesia is a home to enjoy its natural beauty and wildlife, has some of the most biodiverse and stunning landscapes in the world, ranging from volcanoes, mountains, lakes, rainforests, beaches, coral reefs, and islands. Indonesia is also home to many endemic and endangered species of plants and animals, such as the orangutan, the Komodo dragon, the Sumatran tiger, the Javan rhino, and the Rafflesia flower. One can explore the natural wonders of Indonesia in various ways, such as hiking, trekking, camping, diving, snorkeling, surfing, and wildlife watching. Some of the main destinations for nature lovers are Raja Ampat, which is a group of islands with pristine coral reefs and marine life; Gunung Bromo, which is an active volcano with a spectacular sunrise view; Lake Toba, which is the largest volcanic lake in the world; and Tanjung Puting National Park, which is a rainforest reserve with orangutan rehabilitation centers.
Its modern attractions and entertainment are also recommended when visit the country along with many cities that offer shopping malls, skyscrapers, museums, theme parks, and nightlife. The capital city of Jakarta is one of the most dynamic and cosmopolitan cities in Asia. It is where one can find the National Monument, which is a symbol of Indonesia's independence; the Grand Indonesia Shopping Town, which is one of the largest shopping malls in Southeast Asia; the Ancol Dreamland, which is a recreational complex with various theme parks; and the Monas Night Market, which is a lively street market with food stalls and souvenirs. Another option is to visit Bali, which is an island that combines traditional culture with modern tourism. Bali is famous for its temples, rice terraces, beaches, spas, yoga retreats, and cultural shows.
Jakarta Capital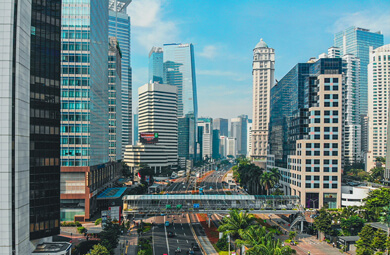 Jakarta is the capital and largest city of Indonesia, as well as the economic, cultural, and political center of the country. Jakarta is located on the northwest coast of Java, the most populous island in the world, and has a population of about 10.5 million people. Jakarta is a city of contrasts, where modern skyscrapers and shopping malls coexist with historical monuments and traditional markets. Jakarta is also a city of diversity, where people from various ethnic groups, languages, religions, and cultures live together.
One of the main attractions in Jakarta is the National Monument (Monas), which is a 132-meter tall tower that symbolizes Indonesia's independence from colonial rule. The monument has a museum that displays the history of Indonesia's struggle for freedom, and an observation deck that offers a panoramic view of the city. Another attraction is the Istiqlal Mosque, which is the largest mosque in Southeast Asia and can accommodate up to 200,000 worshippers. The mosque has a grand dome, a spacious courtyard, and a minaret that stands 66 meters high. The mosque is also located near the Jakarta Cathedral, which is a Gothic-style church that was built by the Dutch in 1901.
Its rich, diverse culture and heritage make Jakarta as an iconic destination included Indonesian art, history, and society. Some of the most popular museums are the National Museum, which has a collection of over 140,000 artifacts from different regions and periods of Indonesia; the Museum Bank Indonesia, which traces the development of banking and economy in Indonesia; and the Jakarta History Museum, which is housed in a former Dutch colonial building and displays the history of Jakarta from prehistoric times to modern days. Jakarta also has many cultural events and festivals that celebrate its multicultural identity, such as the Jakarta International Java Jazz Festival, which is one of the largest jazz festivals in Asia; the Jember Fashion Carnaval, which is a colorful parade of costumes and performances; and the Jakarta Fair, which is an annual trade fair that features exhibitions, concerts, games, and food.
Bali Island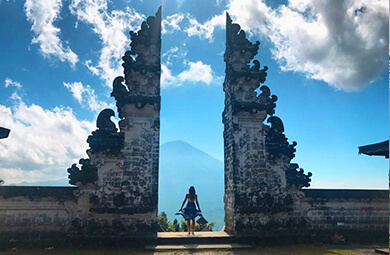 It's obvious that most of tourists visit Malaysia can't refuse soak in Bali Island because of its well-known natural beauty, cultural diversity, and spiritual charm. Bali is located in the Indian Ocean, east of Java and west of Lombok, also home to many ethnic groups, languages, arts, and traditions that reflect its rich and complex history. Bali truly emerges some of the most scenic and diverse landscapes in the world, ranging from volcanoes, mountains, lakes, waterfalls, rice terraces, beaches, coral reefs, islands and some of the most famous temples are the Tanah Lot Temple which is a Hindu temple on a rocky island.
The remarkable Ubud is known for its culture, nature and wellness, it is located in the center of Bali Island, surrounded by lush green hills, stunning forests and the fascinating rice terraces. Ubud is also home to many artists, craftsmen, healers, and spiritual seekers who contribute to its rich, diverse culture and some of impressive temples such as Saraswati Temple, Tirta Empul Temple and Goa Gajah temple which is an ancient cave temple with carvings of elephants and other creatures while some of museums offer great insights of Indonesia arts, culture and history.
Including many wildlife species, such as monkeys, birds, butterflies and elephants that Ubud has become a great place for nature lovers, the Sacred Monkey Forest Sanctuary which is a forest reserve with hundreds of monkeys, the Campuhan Ridge Walk is considered as a scenic trail with views of rice fields and hills along with Tegalalang Rice Terrace which is amazingly stunning as if Tegenungan Waterfall is attractively admired by beautiful clear water and green surroundings.
Gili Islands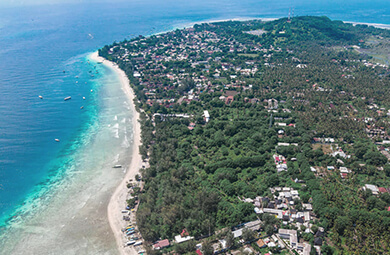 A group of three small islands off the northwest coast of Lombok, Indonesia. They are known for their white sand beaches, coconut palms, turquoise sea and coral reefs. The islands are a popular tourist destination, especially for divers and snorkelers who can enjoy the abundant marine life and coral formations. The islands are also a place to relax and enjoy the laid-back atmosphere, as there are no cars or motorbikes allowed on the islands.
The three islands are Gili Trawangan, Gili Meno and Gili Air. Each one has its own charm and character. Gili Trawangan is the largest and most developed island, with a lively party scene and many restaurants, bars and hotels. Gili Meno is the smallest and quietest island, with a more local feel and fewer tourists. Gili Air is somewhere in between, with a mix of buzz and bliss, and a friendly vibe.
The Gili Islands are a perfect destination for anyone looking for a slice of paradise in tropical climate in Indonesia. Whether you want to dive, snorkel, sunbathe, party or just chill out, you will find something to suit your taste on these beautiful islands.
Borobudur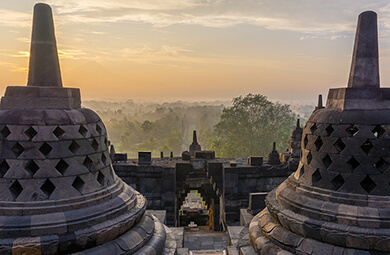 Borobudur is a magnificent Buddhist temple located in Central Java, Indonesia. It was built in the 8th and 9th centuries CE by the Syailendra Dynasty, which ruled over Java and Sumatra. Borobudur is the largest Buddhist monument in the world, and a UNESCO World Heritage Site.
Borobudur has a unique design that combines a stupa, a mandala and a pyramid. It consists of nine platforms, six square and three circular, topped by a central dome. The temple is decorated with 2,672 relief panels and 504 Buddha statues. Today, Borobudur is one of the most popular tourist attractions in Indonesia, and a place of worship and celebration for Buddhists, especially during Vesak Day.
Komodo National Park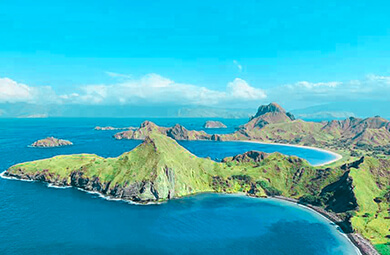 Komodo National Park is a national park in Indonesia that protects a group of volcanic islands and their rich marine and terrestrial biodiversity. The park is famous for being the home of the Komodo dragon, the world's largest lizard, which can only be found in this region. The park also hosts many other animals, such as deer, buffalo, monkeys, birds, turtles, dolphins and whales.
The park was established in 1980 and declared a UNESCO World Heritage Site in 1991. The park covers an area of 1,733 km2, including three major islands (Komodo, Padar and Rinca) and 26 smaller ones. The park has a dry climate and a variety of habitats, such as savanna, forest, mangrove, coral reef and beach. The park attracts many tourists who want to see the Komodo dragon and enjoy the scenic beauty of the islands.
Torajaland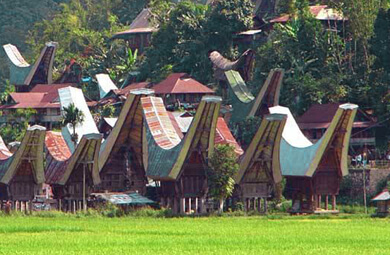 Torajaland is a region in the highlands of South Sulawesi, Indonesia, where the Toraja people live. The Toraja are known for their distinctive culture, architecture and rituals related to death and the afterlife. The Toraja have a strong belief in the ancestral spirits and practice elaborate ceremonies to honor them. They also preserve the bodies of their dead relatives and keep them in their houses or in caves until they can afford a proper burial. The burial sites are often decorated with wooden effigies called tau-tau, which represent the deceased.
Torajaland is a place of natural beauty and cultural diversity. The landscape is dominated by green valleys, rice terraces, mountains and forests. The Toraja houses, called tongkonan, are shaped like boats and have roofs that curve upwards like buffalo horns. The houses are painted with red, black and white motifs that symbolize life, death and purity. The Toraja also have a rich tradition of arts and crafts, such as weaving, carving and dancing.
Bunaken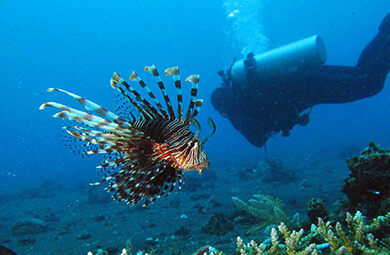 Bunaken is a small island in the Bay of Manado, in the north of Sulawesi, Indonesia. It is part of the Bunaken National Marine Park, a protected area that covers 890 km2 of sea and land. Bunaken is a popular destination for scuba diving and snorkeling, as it has one of the richest coral reef ecosystems in the world. The park has more than 390 species of coral and 2,000 species of fish, as well as turtles, dolphins, whales and dugongs.
Bunaken can be reached by boat from Manado, the capital of North Sulawesi province. The island has several resorts and guesthouses that cater to different budgets and preferences. The island also has a village where visitors can experience the local culture and cuisine. Bunaken is a place of natural beauty and marine diversity that attracts many visitors who want to explore the underwater wonders of Indonesia.
Mount Bromo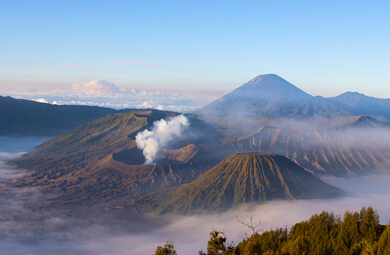 Mount Bromo is an active volcano in East Java, Indonesia, that is part of the Tengger mountains. It is one of the most famous and visited volcanoes in Indonesia, because of its stunning scenery and easy accessibility. Mount Bromo has a height of 2,329 meters (7,641 feet), but it is not the highest peak in the massif. The highest peak is Mount Semeru, which is also an active volcano.
Mount Bromo is surrounded by a vast plain of sand called the Sea of Sand, which is part of the Bromo Tengger Semeru National Park. The park covers an area of 800 square kilometers (310 square miles) and protects various ecosystems and wildlife. The park is also home to the Tengger people, who follow a Hindu-Buddhist culture and worship Mount Bromo as a sacred site.
One of the main attractions of Mount Bromo is to watch the sunrise from a nearby hill called Mount Penanjakan. The view of the sun rising over the misty caldera and the smoking crater is spectacular and unforgettable. Many tourists also hike or ride a jeep to the crater rim of Mount Bromo, where they can see the steaming sulfur and hear the rumbling sound of the volcano.
Baliem Valley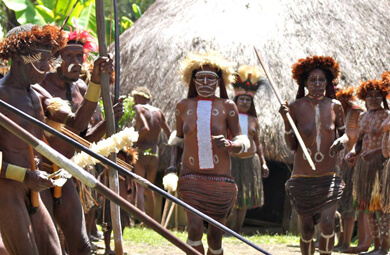 Baliem Valley is a valley in the central highlands of Papua, Indonesia, where the Dani people live. The valley was discovered by the Western world in 1938, when an American expedition led by Richard Archbold flew over it and saw a large agricultural population living in a Stone Age culture. The valley is about 80 km long and 20 km wide, and lies at an altitude of about 1,600 meters (5,200 feet).
Baliem Valley is a place of natural beauty and cultural diversity. The valley is surrounded by rugged mountains and forests, and has a fertile soil that supports crops such as sweet potatoes, bananas and taro. The Dani people have a complex social system and a rich tradition of arts and crafts, such as weaving, carving and painting. They are also famous for their rituals related to war and death, such as pig feasts, mock battles and mummification.
Baliem Valley is one of the most popular tourist destinations in Papua, and attracts many visitors who want to experience the traditional way of life of the Dani people. The valley also hosts an annual festival in August, where different Dani tribes gather to perform dances, music and games.
Tanjung Puting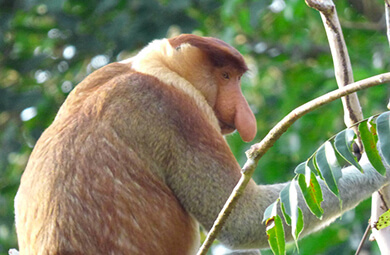 Tanjung Puting is a national park in Central Kalimantan, Indonesia, that protects a large area of coastal tropical heath and peat swamp forest. The park is home to many endangered species, such as orangutans, proboscis monkeys, clouded leopards, sun bears and hornbills. The park is also a Ramsar wetland site and a UNESCO Biosphere Reserve.
Tanjung Puting was established as a game reserve in 1937 by the Dutch colonial government, and became a national park in 1982. The park covers an area of 4,150 square kilometers (1,600 square miles), and includes three main rivers: the Sekonyer, the Buluh and the Seruyan. The park can be accessed by boat from the town of Kumai or by plane from Jakarta or Surabaya.
Tanjung Puting is one of the most popular tourist destinations in Kalimantan, and attracts many visitors who want to see the orangutans and other wildlife. The park has four research and rehabilitation centers for orangutans, where visitors can watch them being fed and learn about their conservation. The most famous of these centers is Camp Leakey, where Dr. Birute Galdikas has been studying orangutans since 1971.
Lake Toba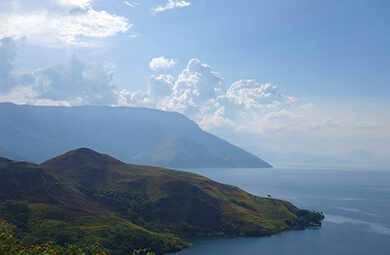 Lake Toba is a natural lake in North Sumatra, Indonesia, that occupies the caldera of a supervolcano. The lake is the largest volcanic lake in the world, with a length of 100 kilometers (62 miles), a width of 30 kilometers (19 miles), and a depth of 505 meters (1,657 feet). The lake has a surface elevation of about 900 meters (2,953 feet) above sea level.
Lake Toba was formed by a massive eruption that occurred about 74,000 years ago, which was one of the largest and most explosive volcanic events in human history. The eruption released an estimated 2,800 cubic kilometers (670 cubic miles) of volcanic material and caused a global cooling effect that lasted for several years. The eruption also created a population bottleneck for early humans and affected their genetic diversity.
Lake Toba is a popular tourist destination in Indonesia, and offers scenic views and cultural attractions. The lake has an island in the middle called Samosir Island, which is the home of the Batak people, who have a unique culture and architecture. The lake also hosts an annual festival in June, where visitors can enjoy traditional music, dance and games.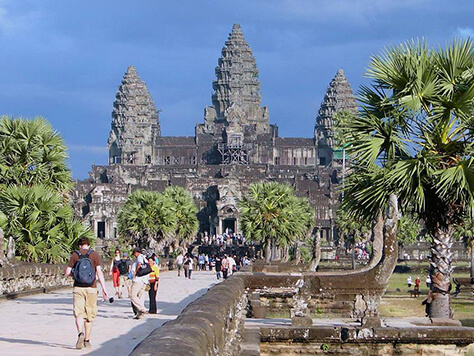 CAMBODIA
Between Vietnam and Thailand
A lot of interesting awaiting for you...
Guiding Asia Travel
One of the best destinations in Asia, the fascinating Siem Reap is famed for its marvelous Angkor Wat, the unrivaled masterpieces & the finest architectures that make Siem Rea become a pearl city of wonder. Distinctively, from Angkor archaeology…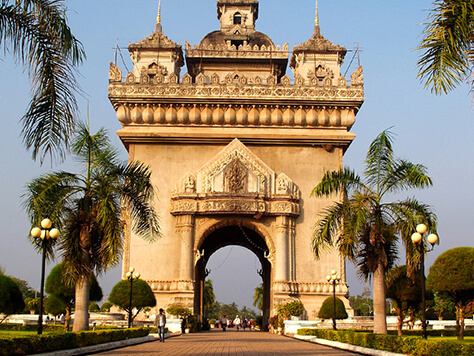 LAOS
Borders with Vietnam, Cambodia & Thailand
More beautiful nature and cultural attractions...
Guiding Asia Travel
Emerges among beautiful Southeast Asian countries and neighboring with China at North, Vietnam from North-east to South-east, Cambodia at south, Thailand from North-west to South-west and Myanmar at Northern west. By the Mekong River…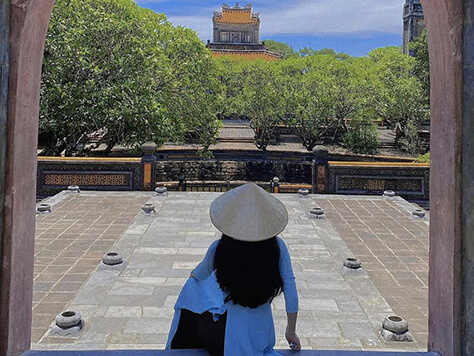 VIETNAM
Borders with Cambodia, Laos and China
Diverse inhabits, natural beauty to cultural sites...
Guiding Asia Travel
The cultures of Vietnam were rooted from various times to times by different rules of their progenitors and ancient dynasties, French colonial and modern Western. From the proclaiming independence from China's rule in 10th century, , Vietnam cultures…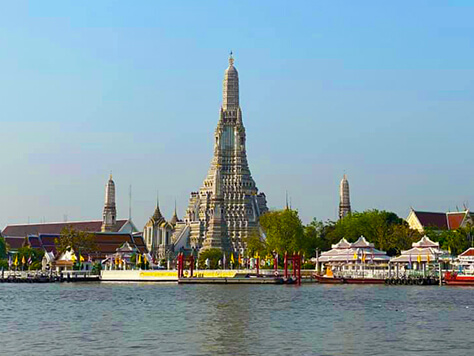 THAILAND
Between Cambodia and Myanmar
From heritage sites, old temples to modern...
Guiding Asia Travel
Thailand is truly fulfilled of energetic diversity, from the cultural ethnicity in Chiang Mai, Chiang Rai to the modern, iconic Krung Thep "Bangkok" dotting with the principal Chao Phraya River and the ancient Ayutthaya Kingdom to beach destinations…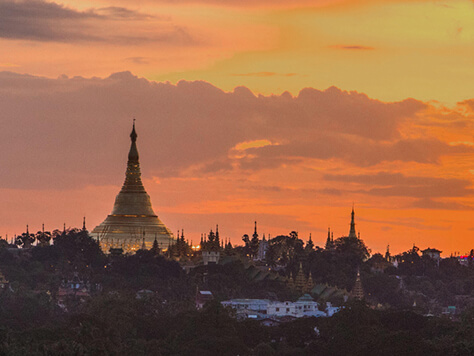 MYANMAR
Borders with India, China and Thailand
From beautiful nature, ancient temples to unique lifestyles...
Guiding Asia Travel
The remarkable Yangon Capital is blessed by Yangon River, Pazundaung Creek and Inya Lake that make Yangon more special with itself skyline dotting with the golden Shwedagon Pagoda while colonial buildings and sacred pagodas have invited…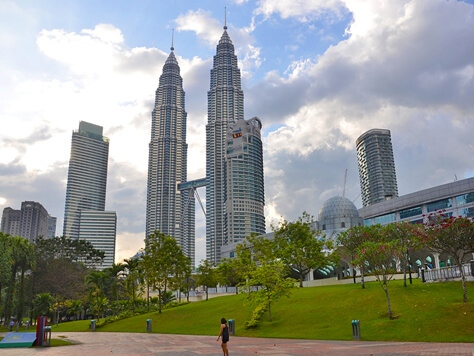 MALAYSIA
Borders with Indonesia, Thailand and Singapore
From the oldest rainforests in the world to famous twin towers...
Guiding Asia Travel
A lovely Asian country to experience its modern attractions and entertainment. Malaysia has many cities that offer shopping malls, skyscrapers, museums, theme parks, and nightlife. The capital city of Kuala Lumpur is one of the most vibrant…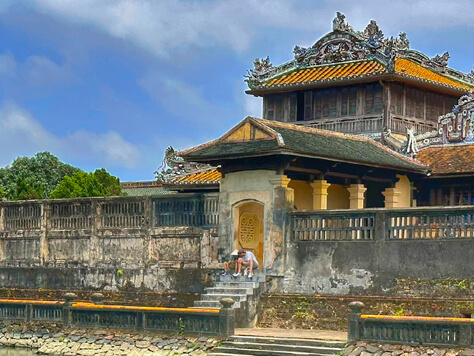 Classic Asia Discovery 21 Days
Thailand | Laos | Cambodia | Vietnam
Bangkok → Chiang Mai (+Chiang Rai) → Luang Prabang → Siem Reap → Saigon → Hoi An → Da Nang → Hue → Hanoi → Halong Bay
Guiding Asia Travel
Extremely focuses on Northern Thailand's Chiang Mai for cultural attractions, elephant sanctuary plus Chiang Rai's famous golden triangle. Followed by Bangkok Capital, visit the notable Grand Palace, impressive old Buddhist temples and a nice…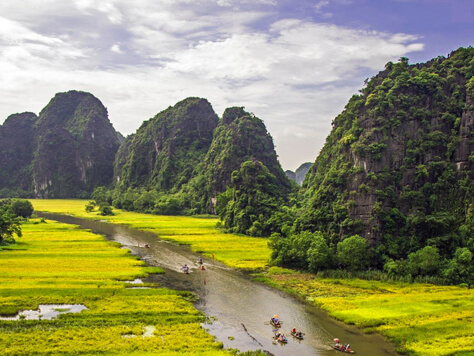 Vietnam Laos Cambodia & Myanmar 20 Days
Vietnam | Laos | Cambodia | Myanmar
Hanoi → Ninh Binh → Halong Bay → Luang Prabang → Siem Reap → Yangon → Bagan → Mandalay
Guiding Asia Travel
A wonderful tailor-made tour offers value travel experience to visit Hanoi Capital that includes major city attractions, historical sites plus combining a day trip to see the fascinating countryside to catch the best karst scenery of Ninh Binh…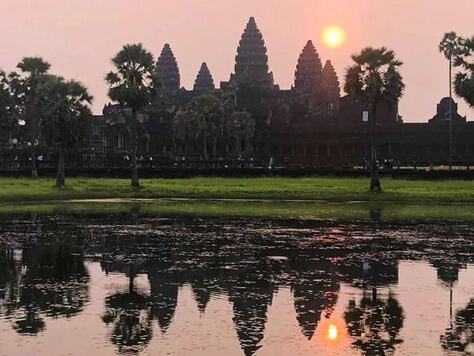 Thailand Myanmar Laos Cambodia & Vietnam Tour 24 Days
Thailand | Myanmar | Laos | Cambodia | Vietnam
Bangkok (+ Ratchaburi) → Mandalay → Bagan → Yangon → Luang Prabang → Siem Reap → Saigon → Mekong Delta → Hanoi → Halong Bay
Guiding Asia Travel
This value journey is perfectly tailor-made and designed for those who are planning amazing holiday trip to see five colorful Southeast Asia countries included Thailand Myanmar Laos Cambodia & Vietnam. Overall, visit to the major attractions…