Laos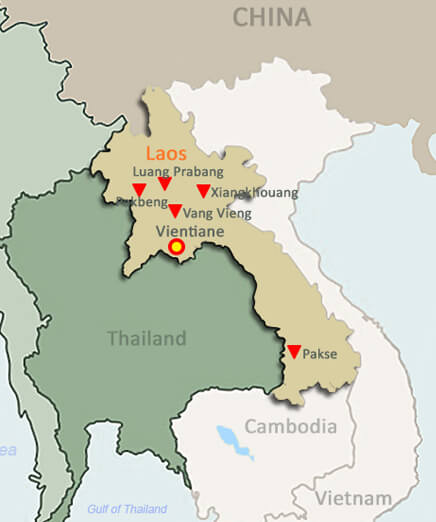 Emerges among beautiful Southeast Asian countries and neighboring with China at North, Vietnam from North-east to South-east, Cambodia at south, Thailand from North-west to South-west and Myanmar at Northern west. The country is traversed by the Mekong River and well-known for its mountainous terrain, lush forest and rivers, hill tribe settlements, Buddhist monasteries, World's heritage sites and interesting historical places across the country. Vientiane Capital is not super vibe if compare to Saigon, Hanoi and Bangkok but the atmosphere is more friendly. The capital still remains the mixture of impressive French-colonial buildings, Buddhist temples included 16th-century golden Pha That Luang monument, where a reliquary reportedly houses the Buddha's breastbone, plus the Patuxai landmark to Luang Prabang which is truly considered as the best well-preserved ancient city among the country's tourist destinations, its tradition, culture and religion are still deeply practiced. Visitors to Luang Prabang are admired by the friendly environment of this small calm city, mix architectures, beautiful waterfall and mountainous caves while Vang Vieng and Pakse provinces are definitely good spots for nature lovers and adventurers. Unfortunately, the country doesn't have coastline or any beach destinations.
Vientiane Capital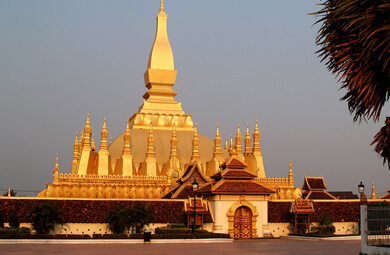 Close to Thailand's border, the Vientiane capital situates on a curve of Mekong River. One of the main tourist attractions in Laos, it's the home to the most significant national monument, the oldest temples, and colonial buildings, and Buddha Park is the most attractive place aside from city orientation. Despite visiting Wats or temples, Vientiane delivers a relaxing riverside break while watching spectacular sunset over The Mekong. Fairly offer interesting city orientation for wandering to see city daily life, Vientiane is a nice place for travelers to discover good quality of colorful silk products, boutique galleries, traditional handicrafts and many more.
Luang Prabang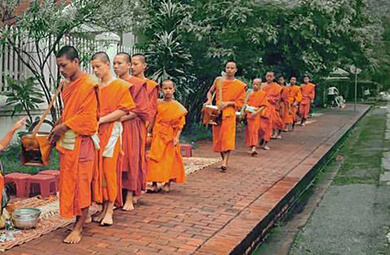 Lies in a valley at the confluence of the Mekong and Nam Khan rivers, Luang Prabang is completely dotted as the most interesting and significant destination in Laos which it is a must-see and a well worth visit. From the unique alms searching by saffron monks, the tranquil city that emerges the well-preserved Wat Xieng Thong to Pak Ou Caves which houses numerous Buddha images, Kuang Si Waterfalls offer the fascinating beauty along with blue water terraces while other parts of Luang Prabang attracts many visitors to come for elephant camps, trekking to tribal villages, wildlife sanctuary, National Park camping, Mekong sunset cruises and enjoying the spectacular views from Mount Phousi which overlooks the mighty Mekong, nature and beautiful Luang Prabang City.
Vang Vieng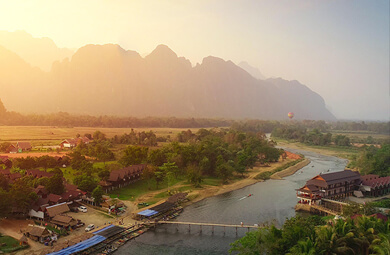 The town of Vang Vieng located between Luang Prabang & Vientiane, approx. 5 hours from Luang Prabang and a few hours to Vientiane Capital. Since daily express train started to operate, it has been much easy and traveling from Vang Vieng or Vientiane to Luang Prabang just spends a few hours only. For travelers who entirely like to explore the nature, Vang Vieng should be considered to be in your travel bucket list. Beautifully admired by fascinating limestone formation, mountain peaks and mysterious caves, calm Song River provides fabulous experience for those who like kayaking, rafting and boating during the sundown. Pleasantly merge yourselves in the stunning nature, there are a lot of things to see and do from cycling, village trekking and riding hot air balloons while ones can wander to see natural wonders nearby included Blue Lagoon, Tham Chang Caves and so on.
Pakbeng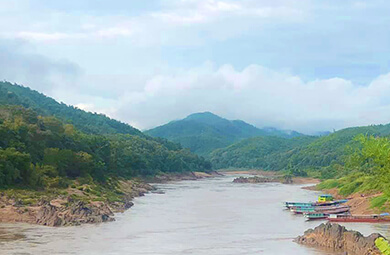 A small village in northern Laos, on the Mekong River. It is halfway between Huay Xai and Luang Prabang, two popular tourist destinations. Pakbeng is a stopover for slow boats that travel along the river for two days. Many visitors stay overnight in Pakbeng and enjoy the scenic views and the friendly people. Pakbeng has a local market where ethnic groups sell their products and wear their traditional clothes. It also has two ancient temples, Wat Kokkor Mingmoungkoun and Wat Sichomecheng, that overlook the Mekong and offer a glimpse of the Buddhist culture. Pakbeng is also home to the Mekong Elephant Camp, where visitors can interact with eight elephants and learn about their role in Lao history and society.
Xieng Khouang (Plain of Jars)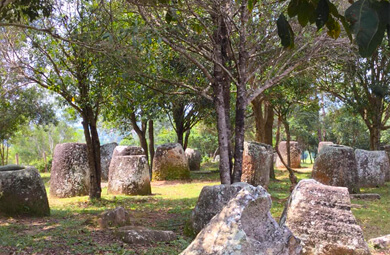 Xieng Khouang is ideally famed for its historical sites of Plain of Jars and one of the most important prehistoric sites in Southeast Asia. The Jars sites are exposed in the central plain of the Xiangkhoang Plateau, along with thousands of impressive giant sandstone jars and it's a historical place for tourists who are fond of Indochina war history as well as learning what purposes people created the jars for.
Not only attractive plain of jars sites but there are also a lot of things to do and see included spoon making village, mulberry silk farm that enhances the finest Lao silk handicrafts and silk processes, a worth visit to the former capital city of Laos which dates back to 14hth century and it's outstandingly admired by impressive Buddha statue sitting over the old ruins at Wat Phia Wat in Muang Khoun, plus the distinct cultures of ethnic minority villages and other natural heritages for exploring, Tham Phra Cave which is simply known as Buddha Cave and Tad Lang Waterfalls.
Xieng Khouang Province locates South-east of Luang Prabang and it is about 7 hour drive from Luang Prabang City and with the same approximate time from Vang Vieng to Phonsovan town in Xieng Khouang or 8-9 hours from Phonsovan to Vientiane Capital and there are domestic flights available with approx. 35 minutes to Vientiane.
Pakse – Champasak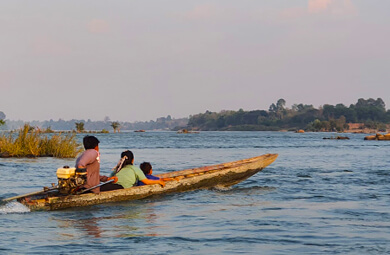 Pakse is a home mixing of ethnic minority villages, French colonial architectures and the significant place to nature seekers, trekkers and adventurers. Pakse city locates on the bank of the mighty Mekong and the zigzagging Xe Don River which is distinctly inspired by cultural Wat Luang, Pakse is a kind of popular tranquil destination for tourists to discover its fascinating beauty, beautiful waterfalls, the well-known 4000 islands or with a good luck to spot the critically endangered River dolphins, the worth Bolaven Plateau and the wonderful Wat Phou that is recognized as the Khmer ancient temple complex was ever built before Angkor period and was also listed as UNESCO World Heritage in 2001. It is actually worth a visit to Pakse because Pakse offers much more interesting to do and see aside from natural wonders, those are included coffee and tea plantations, flying like a gibbon in the lush jungle admired by the stunning Tad Fane waterfalls and mountain cliffs, witnessing daily life of locals and tribal villagers, visit the most extensive Golden Buddha atop Phou Salao mountain where ones can have a pleasant breathtaking with overview of Mekong River and itself Pakse City, and wander around Ban Tong Night Market to sample delicate finger snacks and Lao street food.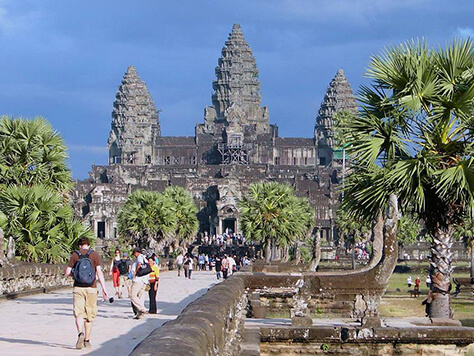 CAMBODIA
Between Vietnam and Thailand
A lot of interesting awaiting for you...
Guiding Asia Travel
One of the best destinations in Asia, the fascinating Siem Reap is famed for its marvelous Angkor Wat, the unrivaled masterpieces & the finest architectures that make Siem Rea become a pearl city of wonder. Distinctively, from Angkor archaeology…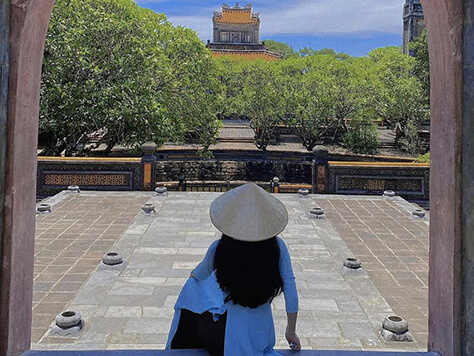 VIETNAM
Borders with Cambodia, Laos and China
Diverse inhabits, natural beauty to cultural sites...
Guiding Asia Travel
The cultures of Vietnam were rooted from various times to times by different rules of their progenitors and ancient dynasties, French colonial and modern Western. From the proclaiming independence from China's rule in 10th century, , Vietnam cultures…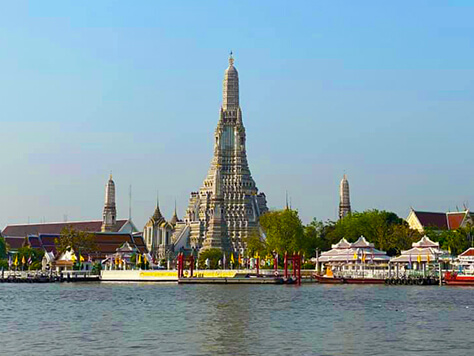 THAILAND
Between Cambodia and Myanmar
From heritage sites, old temples to modern...
Guiding Asia Travel
Thailand is truly fulfilled of energetic diversity, from the cultural ethnicity in Chiang Mai, Chiang Rai to the modern, iconic Krung Thep "Bangkok" dotting with the principal Chao Phraya River and the ancient Ayutthaya Kingdom to beach destinations…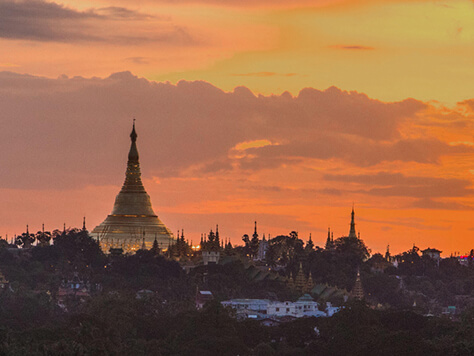 MYANMAR
Borders with India, China and Thailand
From beautiful nature, ancient temples to unique lifestyles...
Guiding Asia Travel
The remarkable Yangon Capital is blessed by Yangon River, Pazundaung Creek and Inya Lake that make Yangon more special with itself skyline dotting with the golden Shwedagon Pagoda while colonial buildings and sacred pagodas have invited…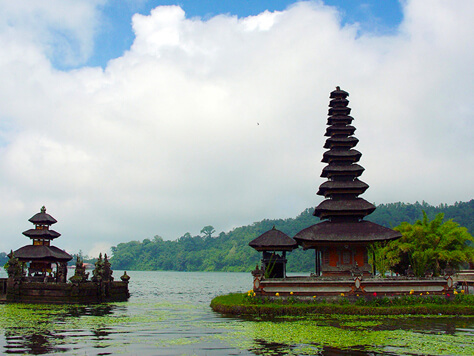 INDONESIA
Borders with Brunei, Malaysia and Java Sea
From natural beauty, famous Bali & ancient temples...
Guiding Asia Travel
A home to enjoy its natural beauty and wildlife, has some of the most biodiverse and stunning landscapes in the world, ranging from volcanoes, mountains, lakes, rainforests, beaches, coral reefs, and islands. Indonesia is also home to many…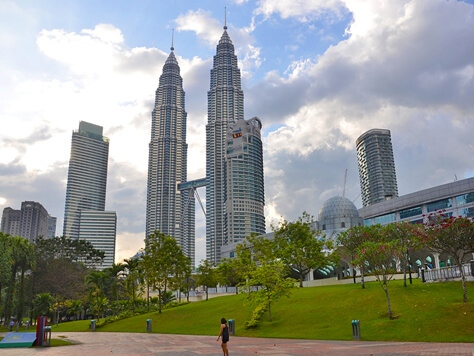 MALAYSIA
Borders with Indonesia, Thailand and Singapore
From the oldest rainforests in the world to famous twin towers...
Guiding Asia Travel
A lovely Asian country to experience its modern attractions and entertainment. Malaysia has many cities that offer shopping malls, skyscrapers, museums, theme parks, and nightlife. The capital city of Kuala Lumpur is one of the most vibrant…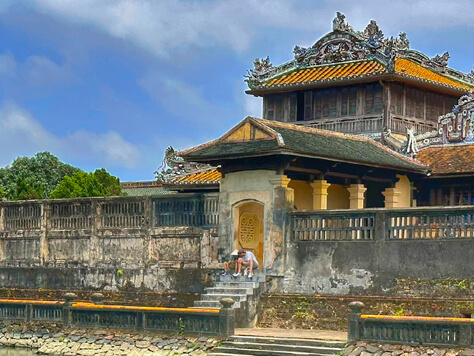 Classic Asia Discovery 21 Days
Thailand | Laos | Cambodia | Vietnam
Bangkok → Chiang Mai (+Chiang Rai) → Luang Prabang → Siem Reap → Saigon → Hoi An → Da Nang → Hue → Hanoi → Halong Bay
Guiding Asia Travel
Extremely focuses on Northern Thailand's Chiang Mai for cultural attractions, elephant sanctuary plus Chiang Rai's famous golden triangle. Followed by Bangkok Capital, visit the notable Grand Palace, impressive old Buddhist temples and a nice…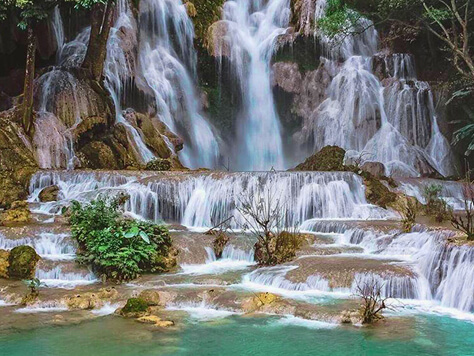 Great Adventure Asia Tour 34 Days
Vietnam | Cambodia | Laos | Thailand
Saigon → Hoi An → Da Nang → Hue → Hanoi → Halong Bay → Siem Reap → Phnom Penh → Vientiane → Vang Vieng → Luang Prabang → Pakbeng → Chiang Rai → Chiang Mai → Phuket → Bangkok (+Ratchaburi & Kanchanaburi)
Guiding Asia Travel
Extensively combines four wonderful countries for those who look for amazing holiday trip to see best destinations and adventure of Southeast Asia: Vietnam, Cambodia, Laos and Thailand. The journey starts from Saigon's vibrant city, the historical…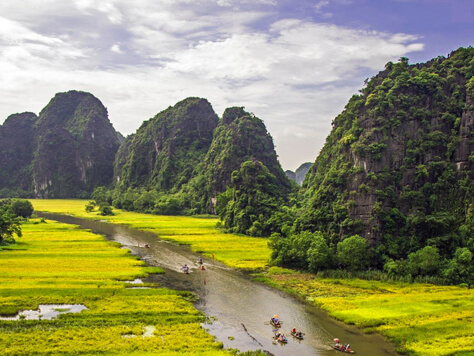 Vietnam Laos Cambodia & Myanmar 20 Days
Vietnam | Laos | Cambodia | Myanmar
Hanoi → Ninh Binh → Halong Bay → Luang Prabang → Siem Reap → Yangon → Bagan → Mandalay
Guiding Asia Travel
A wonderful tailor-made tour offers value travel experience to visit Hanoi Capital that includes major city attractions, historical sites plus combining a day trip to see the fascinating countryside to catch the best karst scenery of Ninh Binh…