Thailand and Myanmar Tours
Grab well worth a visit two neighboring countries: Thailand and Myanmar in Southeast Asia that offer diverse and captivating travel experiences. Whether you are looking for cultural immersion, historical exploration, natural beauty, or beach relaxation, you can find it all in these two destinations.
Explore the ancient temples and pagodas, especially in Bagan where thousands of them dot the picturesque landscape. Witness the stunning sunset from Mandalay Hill or grab the best sunset experience by a balloon ride in Bagan, chat with a monk at a monastery, or take a wonderful trekking in Kalaw to interact with friendly hill tribes. Connecting to Thailand that will dazzle you with its modernity and vibrancy. In slow pace to enjoy the city life of Bangkok, where you can visit the Grand Palace, Wat Pho, and Wat Arun, or shop at the floating markets and night bazaars. Optionally extend your destination to escape to the tropical paradise of Phuket where you can relax on the white sand beaches, swim in the turquoise water, or join a boat tour to the nearby islands. Or by train to visit Northern Chiang Mai and Chiang Rai followed by natural beauty, wildlife, elephant camps, ethnic minority groups, impressive temples and the famous Golden Triangle.
Thailand & Myanmar or Vice Versa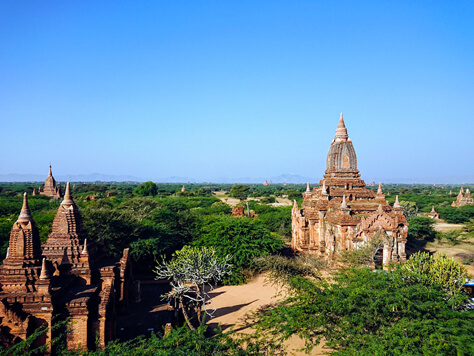 Thailand and Myanmar Highlight Tour 8 Days
Thailand | Myanmar
Bangkok (+ Ratchaburi) → Bagan → Yangon
Guiding Asia Travel
This private classic tour is purposely designed for those who look for a nice holiday trip to visit Thailand and Myanmar. Greatly journey out of Bangkok to observe interesting railway market and the famous Damnoen Saduak floating market in Ratchaburi then see the best highlight of Bangkok Capital followed by main tourist attractions to Grand Palace, beautiful Wat Arun and enjoy the paradise…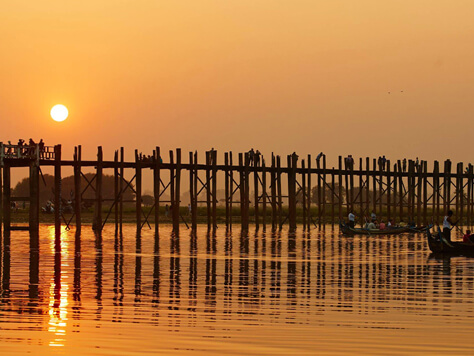 Thailand and Myanmar Value Tour 10 Days
Thailand | Myanmar
Bangkok (+ Ratchaburi) → Yangon → Bagan → Mandalay
Guiding Asia Travel
One of our combined Thailand and Myanmar tours that focuses on main cities included Bangkok Capital where you actually observe interesting railway market and the famous Damnoen Saduak floating market in Ratchaburi then see the best highlight of Bangkok Capital followed by main tourist attractions to Grand Palace, beautiful Wat Arun and enjoy the paradise of happy shopping before taking flight…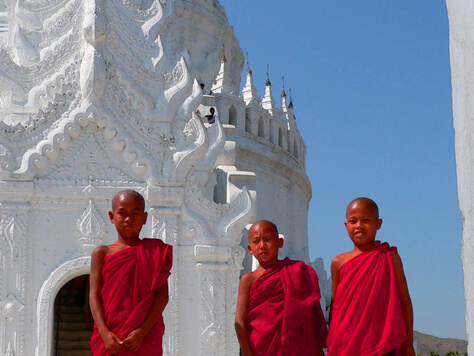 Beautiful Thailand & Myanmar Tour 15 Days
Thailand | Myanmar
Bangkok (+ Ratchaburi) → Phuket → Yangon → Bagan → Mandalay
Guiding Asia Travel
Basically includes Bangkok Capital to observe interesting railway market and the famous Damnoen Saduak floating market in Ratchaburi then see the best highlight of Bangkok Capital followed by main tourist attractions to Grand Palace, beautiful Wat Arun, exciting long-tail boat through canals to Thonburi, enjoy happy shopping and relaxingly spend four pleasant nights for lovely beach escape…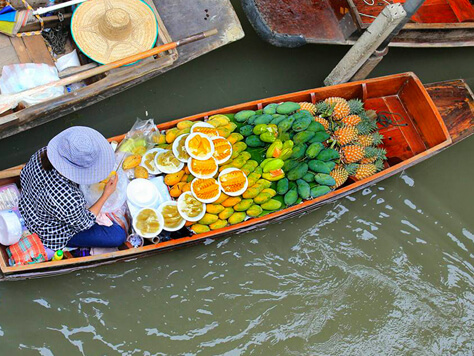 Venture Thailand & Myanmar Tour 16 Days
Thailand | Myanmar
Bangkok (+ Ratchaburi) → Chiang Mai → Chiang Rai → Yangon → Bagan → Mandalay
Guiding Asia Travel
A great adventure Asia trip to explore two wonderful countries Thailand and Myanmar, ideally includes Bangkok Capital along with Grand Palace, beautiful Wat Arun, exciting long-tail boat through canals to Thonburi, interesting railway market and the famous Damnoen Saduak floating market and, with a nice train to northern Thailand's Chiang Rai and Chiang Mai…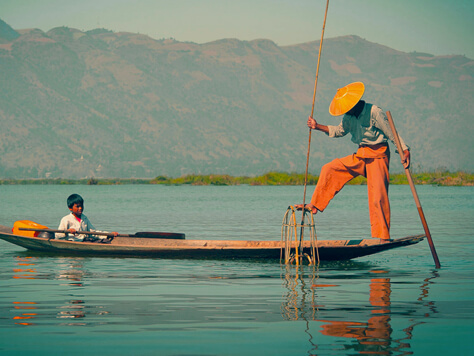 Thailand Myanmar Adventure Tour 18 Days
Thailand | Myanmar
Bangkok (+ Ratchaburi) → Chiang Mai → Chiang Rai → Yangon → Inle Lake → Bagan → Mandalay
Guiding Asia Travel
Memorably experience the greatest adventure trip to amazing Thailand and Myanmar, ideally includes Bangkok Capital along with Grand Palace, beautiful Wat Arun, happy shopping in Bangkok, interesting railway market and the famous Damnoen Saduak floating market and, with a nice train to northern Thailand's Chiang Rai and Chiang Mai provide amazing experience from hill tribe…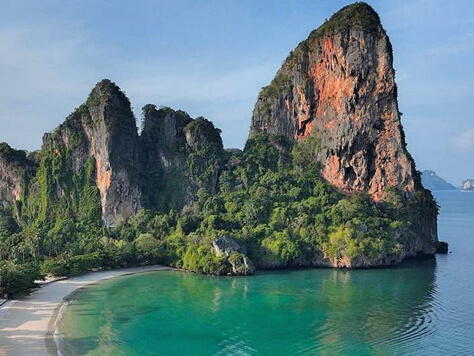 Thailand Myanmar Tour with Beach 20 Days
Thailand | Myanmar
Bangkok (+ Ratchaburi) → Phuket → Yangon → Inle Lake → Kalaw → Bagan → Mandalay
Guiding Asia Travel
From the classic sightseeing of Bangkok to the famous Damnoen Saduak floating market, the beach experience of Phuket offers delightful leisure and followed by its fascinating natural beauty that enhances your holiday trip more unforgettable before soaking in the deep adventure to unlock Myanmar's Yangon Capital where we capture attractive sightseeing and…
Vietnam, Cambodia & Thailand or Vice Versa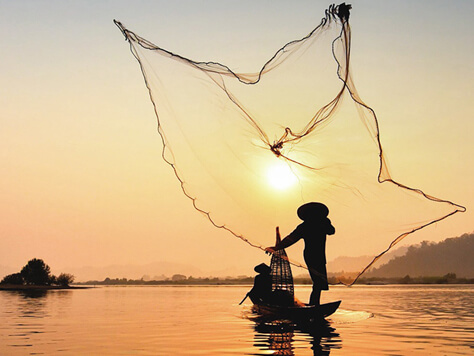 Explore Vietnam Cambodia & Mekong Cruise 2 Weeks
Vietnam | Cambodia
Saigon → My Tho → Cai Be → Sa Dec → Tan Chau → Phnom Penh → Kampong Chhnang → Kampong Cham → Siem Reap → Battambang
Guiding Asia Travel
Enjoy 7 nights cruise experience to see diverse Mekong River, Tonle Sap biosphere reserve and interesting river activities. Gently navigate from Vietnam's popular My Tho in Mekong Delta region admired by floating communities and fishing villages which both give the best insight about Vietnam and Cambodia daily life of people living on the water while you're floating to unwind yourselves amidst…
Vietnam Cambodia Thailand & Mekong Cruise 18 Days
Vietnam | Cambodia | Thailand
Saigon → My Tho → Cai Be → Sa Dec → Tan Chau → Phnom Penh → Kampong Chhnang → Kampong Cham → Siem Reap → Bangkok → Ratchaburi → Phuket
Guiding Asia Travel
Delicately designed for senior travelers who look for amazing holiday trip in a life time to see beautiful Southeast Asia countries combines Mekong Cruise from Vietnam via My Tho, floating communities, fishing villages, both the mighty Mekong and Tonle River provide the best insight about Vietnam and Cambodia daily life of people living on the water plus interesting river activities while you're floating…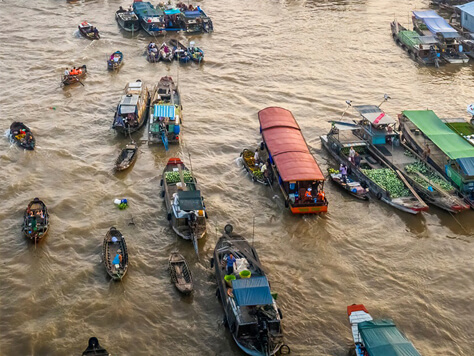 Meaningful Asia & Mekong Cruise 36 Days
Thailand | Cambodia | Vietnam
Bangkok → Ratchaburi → Kanchanaburi → Pattaya → Chiang Rai → Chiang Mai → Vientiane → Vang Vieng → Luang Prabang → Siem Reap → Battambang → Kampong Chhnang → Kampong Cham → Phnom Penh → Tan Chau → Sa Dec → Cai Be → My Tho → Saigon → Hue → Hoi An → Da Nang → Hanoi → Ninh Binh
Guiding Asia Travel
Incredibly explore Bangkok's major attractions along with Grand Palace, famous floating market, railway market and witness curious history of death railway of Kanchanaburi. Fly out to Chiang Rai and Chiang Mai which provide amazing experience from hill tribe villages to cultural insights, fascinating temples, elephant sanctuary and the famous golden triangle. Unlock the calmness of Laos…