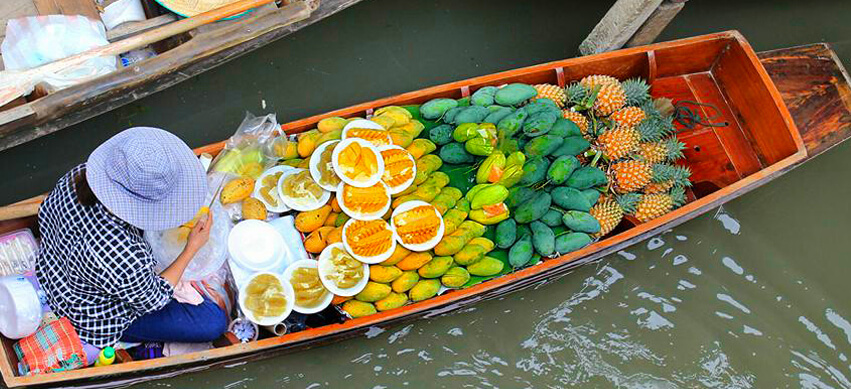 Venture Thailand and Myanmar Tour 15 Nights / 16 Days
Tailor-made travel experience, customizable
A great adventure Asia trip to explore two wonderful countries Thailand and Myanmar, ideally includes Bangkok Capital along with Grand Palace, beautiful Wat Arun, exciting long-tail boat through canals to Thonburi, interesting railway market and the famous Damnoen Saduak floating market and, with a nice train to northern Thailand's Chiang Rai and Chiang Mai provide amazing experience from hill tribe villages to cultural insights, fascinating temples, elephant sanctuary and the golden triangle. Connecting with the iconic Yangon Capital of Myanmar, visit attractive sightseeing places included French colonial buildings, local market, Mahabandoola Park and the impressive Shwedagon Pagoda while unlock Myanmar's culture, historical sites and religious pagodas. In the significant Bagan, explore the UNESCO World Heritage Site dotting with numerous ancient temples, Buddhist pagodas and monasteries were built between the 11th and 13th centuries, and visit the fascinating Mandalay, the former Royal Palace followed by great history, other incredible temples and beautiful surroundings of Mandalay Hills and Irrawaddy River.
Guiding Asia Travel
Bangkok (+ Ratchaburi) → Chiang Mai → Chiang Rai → Yangon → Bagan → Mandalay
Or Vice Versa
Day 1: Bangkok – Arrival
International flight is NOT included in the tour price.
Our friendly team (guide and driver) will welcome you at the arrival gate upon your arrival at Suvarnabhumi/Don Mueang Airport then transfers to a reserved hotel for check in and simply enjoy yourselves free time at hotel or explore central city by your own.
Overnight in Bangkok
*Meal Plan: None
Day 2: Maeklong Railway Market & Damnoen Saduak Floating Market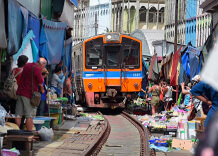 Breakfast is served at hotel. Our journey starts at 8.00am from hotel, drive with 1.15h to Samut Songkhram province which is famed for its Maeklong Railway market that you will observe interesting local life between vendors and buyers daily do their trade and exchange local goods at both sites of the train tracks and they suddenly pull down their canvas when the train approaches then put them back after the train passes by. Resume driving to Ratchaburi which popularly emerges the must-see Damnoen Saduak Floating Market where we will process to take a rowing boat to see the bustling activities along rivers and canals, colorful fruits, flowers, vegetables, snacks and other various items on local boats in this famous floating market in Thailand. Resume observe Thai locals make coconut sugar farm flowed by interesting skillful coconut works. We say goodbye to Ratchaburi then you may want to see salt fields with learning the processing of salt production on the way we drive back to Bangkok.
Overnight in Bangkok
*Meal Plan: Breakfast, Lunch
Day 3: Bangkok Highlight City Tour & Shopping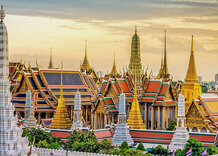 Breakfast is served at hotel. Today we begin at 8.00am for the amazing day to explore significant tourist attraction in central Bangkok City, visit Wat Traimit which houses the largest Golden Buddha statue in the world and catch the highlights of bustling China and Indian towns animated by interesting daily activities or you can stop by for a short visit when we drive pass to observe the Temple of the reclining Buddha in Wat Pho. Continue for a guided strolling at The Grand Palace which is popularly known as "The City Landmark" admired by the most impressive Emerald Buddha and other building complex that features unique architectural designs and cultural arts. Enjoy delicious Thai lunch at a selected local restaurant.
Afternoon, we drive to observe the remarkable Wat Arun which means Temple of Dawn which dates back to Ayutthaya Kingdom and continue to for your own happy shopping Pratunam Market or at Chatuchak Weekend Market (Fri-Sun).
Overnight in Bangkok
*Meal Plan: Breakfast, Lunch
Day 4: Bangkok - Long Tail Boat to Thonburi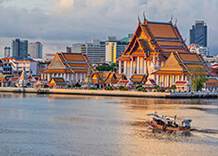 Breakfast is served at hotel. Leave the hotel at your convenient time then we process to take a long-tail boat excursion along Chao Phraya River to catch the beautiful photos of Bangkok Skylines dotting with Wat Arun. Our exciting journey on boat through small canals of Thonburi to see Bangkok's real local lives, wooden houses on the water, temples and other interesting things along the canals before we make our way back to the hotel and the rest of the time is free and easy.
If you love shopping, Icon Siam Shopping Mall is one of the biggest modern malls in Bangkok, you can find a lot of variety of local products, clothes, accessories, fresh fruits stalls and other famous brand collections. To visit and go shopping at Icon Siam Shopping Mall, please discuss about this with our tour guide a day before or just before you embark a long-tail boat.
Overnight in Bangkok
*Meal Plan: Breakfast

Day 5: Nice Train Experience: Bangkok to Chiang Mai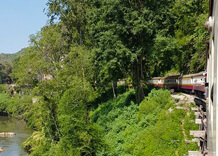 Breakfast is served at hotel. Check out and get transferred by our team at 7.45am for the day train at 8.30am to Chiang Mai. This is quite suitable for those who seek for nice experience of Thailand's beautiful sights by popular trains from bustling Bangkok Capital to the fascinating Northern Thailand's hilly jungles, panoramic landscapes and other impressive attractions on the way. The train journey takes approx. 11-12 hours and arrive in Chiang Mai's train station at 7:30-8:30pm.
Note: Food, drinks and snacks can be purchased on the train.
*Daily domestic flights (1 hr 15 min) are available upon request.
Upon your arrival, your will be friendly greeted by our team and transfer to a booked hotel for check in.
Overnight in Chiang Mai
*Meal Plan: Breakfast, Lunch
Day 6: Chiang Mai - Wat Phrathat Doi Suthep, Hmong Village & 3km Trekking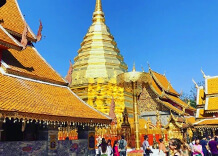 Breakfast is served at hotel. We start our wonderful Chiang Mai tour at 8.30am, drive up on Doi Suthep Mountain to visit the famous golden temple of Wat Phra That Doi Suthep standing 3500 feet above the sea level and it religiously houses Buddha relics then enjoy breathtaking the panoramic view over Chiang Mai City from the summit of Doi Suthep. Resume our journey to Black Hmong Village locates at the hillside, observe daily life of Hmong villagers admired by their interesting routine activities.
Lunch is provided at a local restaurant.
After lunch break, we continue driving down the hill for a pleasant trekking with 3km through jungle trails up and down towards the fascinating and less touristy Monthatan waterfalls hidden among the dense forest in Chiang Mai. Unwind and emerge yourselves with the stunning surrounding, get refreshed and enjoy swimming before heading back to the hotel in the evening.
Overnight in Chiang Mai
*Meal Plan: Breakfast, Lunch
Day 7: Chiang Mai – Full Day Elephant Nature Park
Breakfast is served at hotel. Be ready with your small light pack for pickup at 7.40am arranged by Elephant Nature Park. Enjoy a full day visit to Elephant Nature Park; a natural home and sanctuary for elephants, buffaloes, dogs, cats, birds and many other rescued animals. Your visit starts with a picturesque drive through rural countryside. You will hear the personal stories of rescued and orphaned elephants and see how they became a proud herd and free from abuse for the first time in their lives. Many find their visit to Elephant Nature Park rewarding and very relaxing. Observe free roaming elephants (no riding) and other rescued animals enjoying the natural surroundings of our sanctuary. Your visit helps support our regional projects and offers an invaluable opportunity of helping elephant conservation. We finish the tour and returning Chiang Mai between 5:00pm – 5:30pm.
What to Bring: Hat, Sunscreen, Sandals/Flip Flops, Shoes for walking, Camera, Bug Repellent, Refillable Water Bottle. (Rain Jacket – Rainy Season April – October).
Overnight in Chiang Mai
*Meal Plan: Breakfast, Vegetarian buffet lunch
Day 8: Chiang Mai – Chiang Rai & Chiang Rai Tour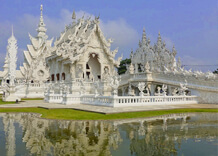 Breakfast is served at hotel. Check out at 8.30am then we say goodbye to beautiful Chiang Mai and drive with 2 ½ hours to Chiang Rai Province, we will stop at Mae Kachan Hot spring for coffee break and wander in the area to see locals boiling eggs inside the hot spring. Continue driving, we then pay attention to witness the well-known Wat Rong Khun (popularly known as White Temple) admired by its stunning Thai art styles and unique temple architecture where many tourists always take fabulous photos of its reflection.
Enjoy lunch at a selected local restaurant and check in at a booked hotel in Chiang Rai.
Afternoon, we leave hotel for a worth visit at Black House temple museum which inspires traditional Northern Thai arts and architecture then continue to visit the impressive Wat Rong Suea Ten (or Blue Temple) in rare blue color, adorable carvings with its own architectural styles. We'll then make our way for Kad Luang market to observe daily life of local people and see various Thai products from fresh tropical fruits, vegetables, meats to local street food, clothes and accessories.
Overnight in Chiang Rai
*Meal Plan: Breakfast, Lunch
Day 9: Chiang Rai – Golden Triangle & Long Neck Karen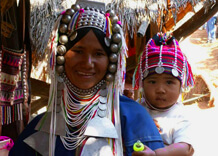 Breakfast is served at hotel. Today we leave a bit early at 7.30am for our wonderful journey to explore the most attractive destinations of Chiang Rai. We spend about an hour to visit Mae Chan admired by its fresh massive Choui Fong Tea plantation where you will learn a bit more about tea processing and enjoy the taste of real tea flavor of Chiang Rai while observing the fantastic scenery. Continue our adventure to interact diverse Akha hill tribal village and Long Neck Karen where we witness their daily life of living in exotic clothes/handicrafts while observing their interesting activities and the surrounding before heading to the well-known Mae Sai market where you wander around to grab a lovely gift for yourselves, this market is boring between Chiang Rai and Tachileik, Myanmar – the commercial place for locals and ethnic minority people come for trades and exchange their various goods.
Enjoy lunch at a selected local restaurant.
Afternoon, we drive to Golden Triangle point where the parts of Myanmar, Thailand, Laos, Ruak River and Mekong River meet at the confluence, the region was largely famed for opium production and cultivation in the world. We then take a change to take Mekong River boat which pleasantly provides amazing boat ride to see the mighty Mekong River, to Don Sao Island – a part of Laos where we will wander around Don Sao market.
Note: Visiting Don Sao Island is not required visa but make sure you bring along passport with you and keep it safely with boat company and claim it back when you finished the boat ride. Or you may skip the boat ride if you want.
The best part of the trip is not to miss out Opium House Museum which gives you best interesting history about Opium plantation, production and cultivation, and there are numerous exhibits of opium artifacts as well as houses of opium collection which can tell you that the Golden Triangle is one of most impressive opium cultivation in the world. Finally, our trip ended with meaningful and we drive with 1 ½ hours back to Chiang Rai.
Overnight in Chiang Rai
*Meal Plan: Breakfast, Lunch
Day 10: Chiang Rai - Flight to Yangon, Myanmar
Breakfast is served at hotel. Enjoy the rest of your own free time in Chiang Rai before transferring to airport for flight (1 stop) to Yangon, Myanmar.
Upon arrival, you will be friendly greeted by our escort guide and driver then transfer to a booked hotel in Yangon and simply have free time after check in or make your own strolling around city for highlight.
Overnight in Yangon
*Meal Plan: Breakfast
Day 11: Full Day Guided Yangon City Tour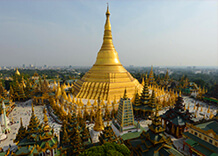 Breakfast is served at hotel. We set off at 8.30am to visit the bustling Bogyoke Market (Closed on Monday & public holidays) – a major bazaar with colonial architecture that we will see a lot of various Myanmar antiques, handicrafts, jewellery, clothing and many more. Resume to Yangon's oldest administrative buildings which was the former Burma Railways Company built in 19th century, passing the French colonial building of the High Court and the largest white City Hall of Yangon before heading to see the Independent Monument vertically standing out in Mahabandoola Park. Next, witness religious Sule Pagoda that dates back to the time of the Buddha and also ages more than two thousand years old.
Enjoy delicate lunch at a selected local restaurant.
Afternoon, continue our happy sightseeing to Chaukhtatgyi Pagoda that houses huge significant reclining Buddha with traditionally carved sacred symbols at the feet and is one of the most well-reserved pagodas in Myanmar. End the worth day at the most prominent Shwedagon Pagoda which is considered as a magnificent gilded stupa that houses sacred relics of four Buddhas, it dominates the skyline of Yangon City, and impressively attracts pilgrims and tourists from around the world.
Overnight in Yangon
*Meal Plan: Breakfast, Lunch
Day 12: Yangon – Flight to Bagan & Amazing Bagan's Temple Tour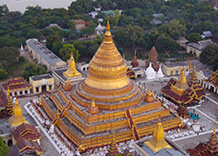 Breakfast is served at hotel. Enjoy the rest of free time in Yangon before transferring to airport for flight to Old Bagan.
Bagan is an ancient city and a UNESCO World Heritage Site in Myanmar, where thousands of Buddhist temples, pagodas and monasteries were built between the 11th and 13th centuries. It is a sacred and spectacular place which can't be missed out when visiting Myanmar.
Upon arrival, you will be friendly greeted by our escort guide and driver then transfer to a booked hotel in Bagan for check in.
After check in, we begin with a visit an elevated temple from where you will have a panoramic view of the magnificent plains of Bagan then visit the golden Shwezigon Pagoda – a Buddhist stupa was built by King Anawrahta and King Kyansittha in the 11th century, and it is a prototype of Burmese stupas and enshrines relics of the Buddha and three previous Buddhas. Followed by the well-preserved frescoes of Gubyaukgyi Temple's walls, we'll witness 13th century-built Htilominlo Temple along with a three-story red brick structure with fine plaster carvings and murals. Continue our journey to observe a traditional lacquerware workshop where you browser the best-known Myanmar handicrafts in Bagan before go to unlock Ananda Temple emerges its beautiful Mon-style architecture, along with two unique previous Buddha images. With a nice experience on horse cart ride passing several interesting Thatbyinnyu, Dhammayangyi and Sulamani Temples toward a suitable higher spot on a temple to watch the spectacular sunset over the ancient plains of Bagan.
Return hotel for refreshment before our team take you to enjoy tasty dinner at Sanon Restaurant (or similar).
Do you know that the best way to experience the most beautiful sunset is by taking a balloon ride? A balloon ride is a great way to watch sunset over the world UNESCO heritage of ancient plain of Bagan and some travelers can't feel to miss it out when they step their feet in this wonderful land.
Overnight in Bagan
*Meal Plan: Breakfast, Dinner
Day 13: The Rest of Lovely Bagan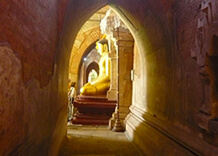 Breakfast is served at hotel. We journey out at 8.30am for guided strolling at the authentic Nyaung Oo Market where we observe how daily life works between vendors and buyers for local trade exchanges while interact the villagers with your chances to sample yummy local snacks. Resume to Myin Ka Ba village to visit 12th century Buddhist Manuha and Hindu Nan Hpaya Temples along with interesting history of kings who built those impressive temples.
Enjoy lunch at a selected local restaurant.
Afternoon, we continue our worth day to the less touristy Minnanthu village where we'll discover several attractive temples which were built in 13th century including Paya Thone Zu, Lemyethna and Nandamannya temple admired by its the finest murals and frescoes. Our amazing day will be followed by boarding a boat cruise which slowly navigates along the Irrawaddy River to let you enjoy the tranquility, see the lifestyle of the fishermen and riverside villagers, and with beautiful background of Bagan dotting with temple's towers.
Overnight in Bagan
*Meal Plan: Breakfast, Lunch
Day 14: Bagan to Mandalay & Mandalay Highlights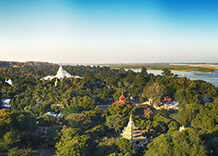 Breakfast is served at hotel. Check out then we drive with 4 hours to a booked hotel in Mandalay and simply have free time at hotel.
Afternoon, we go out to visit beautiful Mahamuni Temple which is one of the famous temples as well as a significant pilgrimage site in Myanmar, built in 18th century and significantly houses large Buddha statue. Followed by Kuthodaw Pagoda who has earned the title "World's Biggest Book" because of its impressive 729 marble stone slabs of Buddhist scriptures, we continue to witness a historic Shwenandaw Buddhist monastery admired by its intricately carved Teak wood of walls and roofs which truly enhances the artistic styles of original Royal Palace.
Resume to the final stop at the summit of Mandalay Hill we will capture the spectacular sunset over Irrawaddy River and nice view of Mandalay City.
Overnight in Mandalay
*Meal Plan: Breakfast
Day 15: Indulgent Mandalay Discovery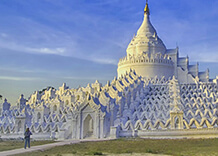 Breakfast is served at hotel. Today we will journey out at 8.00am to explore some of historical sites and most interesting main attractions in Mandalay. Start with 18th century built-temple Mingun Pahtodawgyi and visit the world's most massive Mingun Bell before taking a boat excursion to reveal daily life of elderly folks at Buddhist nursing home and a kind small donation would be appreciated when visit the place. We continue to reveal the beauty in white of Hsinbyume Pagoda located on the banks of the Irrawaddy River, stroll around and try your best to shoot beautiful photos.
Enjoy lunch at a selected local restaurant.
Afternoon, return and drive to the former capital of the Sagaing Region which is a home to 3,000 monks, Buddhist temples and hundreds of meditation centers, and dotting with remarkable white-golden stupas. We cross a bridge over the Irrawaddy River to where we will stroll to unlock several main temples on Sagaing Hill included Swan Oo Pon Nya Shin and U Min ThoneSae that features numerous Buddha images. Next, we visit the typical Burmese market – the less touristy local market where we'll observe a lot of wide ranges of local products and various handicrafts, and learn a process of making pottery at a pottery village.
At the end of the trip, we make the way to walk over the 200-year-old U Bein Bridge which is known as the longest Teak wooden bridge in the world, the nice spot you can browser beautiful surroundings or wait to watch the fabulous sunset over Taungthaman Lake.
Overnight in Mandalay
*Meal Plan: Breakfast, Lunch
Day 16: Mandalay - Departure
International flight is NOT included in the tour price.
Breakfast is served at hotel. Enjoy the rest of free time in Myanmar then our team will pick you up from hotel's lobby and transfers to Mandalay International Airport for your flight to the next destination.
*Meal Plan: Breakfast

Thank You
Goodbye Beautiful Southeast Asia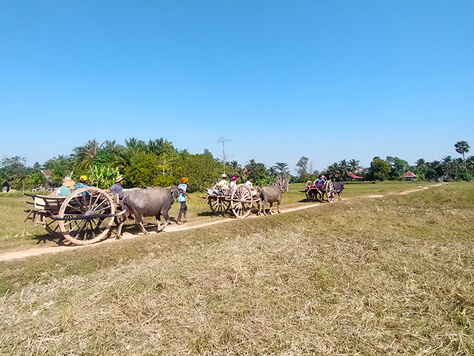 Vietnam Cambodia & Myanmar Tour 19 Days
Vietnam | Cambodia | Myanmar
Saigon → Mekong Delta → Can Tho → Chau Doc → Phnom Penh → Battambang → Siem Reap → Yangon → Bagan → Mandalay
Guiding Asia Travel
Discover the vibes of Vietnam from the must-see Mekong Delta and its famous floating market in Mekong Delta River, Saigon's French colonial buildings, the thrilling historical site of Cu Chi Tunnels, through the peaceful Tra Su Cajuput…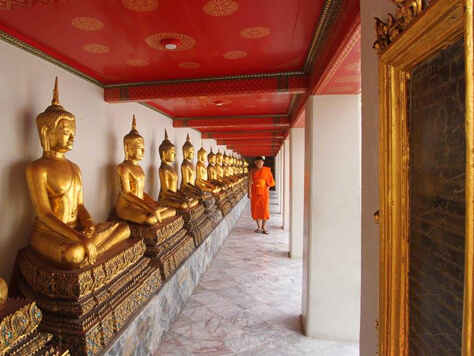 Thailand Myanmar Laos & Cambodia Tour 18 Days
Thailand | Myanmar | Laos | Cambodia
Bangkok (+ Ratchaburi) → Mandalay → Bagan → Yangon → Luang Prabang → Siem Reap
Guiding Asia Travel
Well worth a visit to the major attractions in Bangkok Capital to the famous Damnoen Saduak floating market and railway market, and enjoy happy shopping in Bangkok before taking flight to Myanmar where we'll explore the fascinating Mandalay…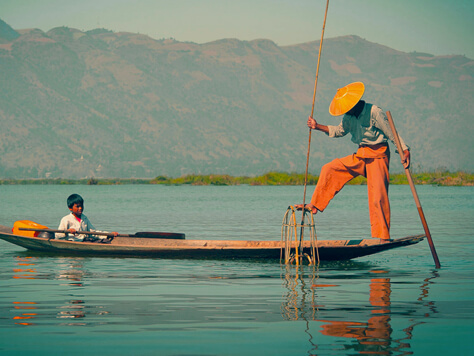 Thailand Myanmar Adventure Tour 18 Days
Thailand | Myanmar
Bangkok (+ Ratchaburi) → Chiang Mai → Chiang Rai → Yangon → Inle Lake → Bagan → Mandalay
Guiding Asia Travel
Memorably experience the greatest adventure trip to amazing Thailand and Myanmar, ideally includes Bangkok Capital along with Grand Palace, beautiful Wat Arun, happy shopping in Bangkok, interesting railway market and the famous…