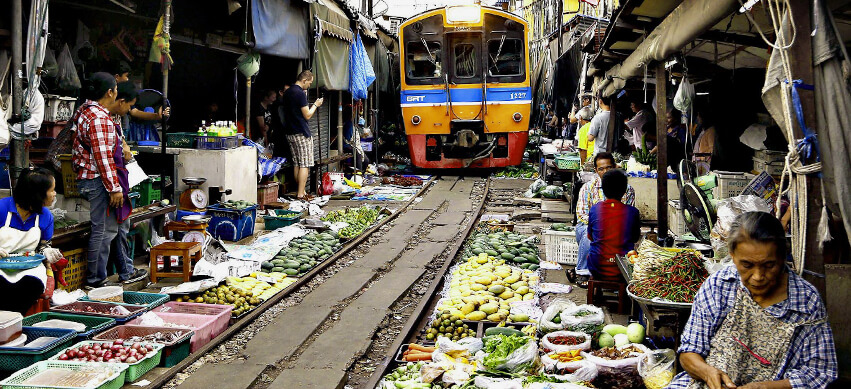 The Color of Thailand Cambodia Tour 2 Weeks
Tailor-made travel experience, customizable
Greatly included significant attractive destinations in Bangkok which begins from the old kingdom of Ayutthaya historical park that emerges some impressive ancient temples date to 15th century, followed by the notable Grand Palace admired by Emerald Buddha and other beautiful Buddhist temples, and the well-known floating market in Ratchaburi plus interesting railway market. Discover amazing Cambodia's Angkor Wat temple along with incredible complex & architectural masterpieces, have fun on ox cart ride through rural villages and visit Tonle Sap Lake and the fascinating Phnom Kulen waterfalls. Uniquely experience Battambang's bamboo train aside witnessing the best insights of Battambang before heading to the iconic Phnom Penh along with the striking Royal Palace, national museum, historical sites of killing field/museum, interact locals from cyclo ride and get on board for sunset cruise followed by delicate dinner.
Guiding Asia Travel
Bangkok → Ayutthaya → Ratchaburi → Siem Reap → Battambang → Phnom Penh
Day 1: Bangkok – Arrival
International flight is NOT included in the tour price.
Our friendly team (guide and driver) will welcome you at the arrival gate upon your arrival at Suvarnabhumi/Don Mueang Airport then transfers to a reserved hotel for check in and simply enjoy yourselves free time at hotel or explore central city by your own.
Overnight in Bangkok
*Meal Plan: None
Day 2: Ayutthaya Historical Park with Temples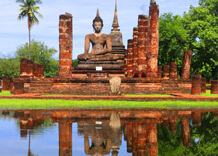 Breakfast is served at hotel. We set off at 7.30am from hotel to explore the ancient Kingdom of Thai Northern Bangkok. Ayutthaya is nowadays the main tourist destination, historical park as well as one of the UNESCO World Heritage sites. The first place we visit is Bang Pa-in Summer Palace along with the fascinating royal gardens and ponds, emerges in rich history and architectural styles which dates back Ayutthaya period. Continue driving to discover the significant temples and monasteries built in Ayutthaya Historical Park including Buddhist temple of Wat Chaiwatthanaram, beautiful 15th century temple of Wat Phra Sri Sanphet, the old ruins of Wat Lokayasutharam admired by the largest reclining Buddha and stroll with your guide to unlock centuries-old Buddha statues especially the Buddha head in the intertwined roots which is the most remarkable image in Wat Mahathat temple. Next, we pay our attention to the exquisite Wat Na Phra Men consisting of impressive the crowned Buddha in royal attire with the height of 6m and it's one of the most important, religious Buddhist temples that was greatly ever built in Ayutthaya era. Finally, we drive with 1 hour and half back to Bangkok.
Today's lunch is provided at a selected local restaurant.
*Note: If you love to see and feed elephants, today is a good chance for you and you should inform our tour guide about this. You need to get advise from tour guide on what fruits to buy before reaching elephant sanctuary.
Overnight in Bangkok
*Meal Plan: Breakfast, Lunch

Day 3: Best Bangkok City Tour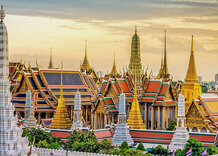 Breakfast is served at hotel. Today we begin at 8.00am for the amazing day to explore significant tourist attraction in central Bangkok City, visit Wat Traimit which houses the largest Golden Buddha statue in the world and catch the highlights of bustling China and Indian towns animated by interesting daily activities or you can stop by for a short visit when we drive pass to observe the Temple of the reclining Buddha in Wat Pho. Continue for a guided strolling at The Grand Palace which is popularly known as "The City Landmark" admired by the most impressive Emerald Buddha and other building complex that features unique architectural designs and cultural arts. Enjoy delicious Thai lunch at a selected local restaurant.
Afternoon, enjoy a long-tail boat excursion across Chao Phraya River to pay attention at the remarkable Wat Arun which means Temple of Dawn which dates back to Ayutthaya Kingdom and take beautiful photos of Bangkok Skylines. Resume our exciting journey on boat through small canals of Thonburi to see Bangkok's real local lives, wooden houses on the water, temples and other interesting things along the canals before we make our way back to the hotel.
Overnight in Bangkok
*Meal Plan: Breakfast, Lunch
Day 4: Maeklong Railway Market & Damnoen Saduak Floating Market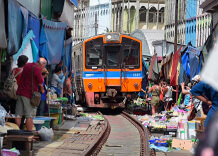 Breakfast is served at hotel. Our journey starts at 8.00am from hotel, drive with 1.15h to Samut Songkhram province which is famed for its Maeklong Railway market that you will observe interesting local life between vendors and buyers daily do their trade and exchange local goods at both sites of the train tracks and they suddenly pull down their canvas when the train approaches then put them back after the train passes by. Resume driving to Ratchaburi which popularly emerges the must-see Damnoen Saduak Floating Market where we will process to take a rowing boat to see the bustling activities along rivers and canals, colorful fruits, flowers, vegetables, snacks and other various items on local boats in this famous floating market in Thailand. Resume observe Thai locals make coconut sugar farm flowed by interesting skillful coconut works. We say goodbye to Ratchaburi then you may want to see salt fields with learning the processing of salt production on the way we drive back to Bangkok.
Overnight in Bangkok
*Meal Plan: Breakfast, Lunch
Day 5: Bangkok - By Public Bus to Siem Reap, Cambodia
Breakfast is served at hotel. Our team picks you up at 7.00am at hotel's lobby then transfers to bus station for the journey 8 ½ hours to Angkor Siem Reap, Cambodia.
Upon your arrival at bus station, our friendly team (guide and driver) will welcome you and transfers to a reserved hotel for check in and simply have yourselves free time at hotel or explore central city by your own.
Overnight in Siem Reap
*Meal Plan: Breakfast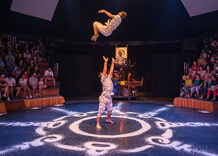 You may opt to visit Siem Reap's most unique, authentic, top-rated entertainment! – Phare Cambodian Circus that won the Guinness World Record and it is the only unique Phare Circus performance (no animals) which is unlike any other circus in the world: theater, story, dance, high-energy music and circus arts, and impressively inspires Cambodia culture and arts etc.
Day 6: Full Day Guided Angkor Discovery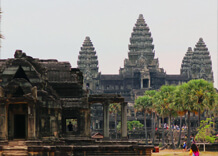 Breakfast is served at hotel. We're journeying out of hotel at 8.00am the South Gate of Angkor Thom atop 4 giant faces that religiously represents compassion, sympathy, equanimity and charity. Stroll around Bayon temple consisting of more than 200 smiling faces in stone, admired by interesting temples including Baphuon, Phimeanakas, terrace of leper king and terrace of elephant. Resume the journey to visit Ta Prohm temple adorned with the stunning, amazing tree roots where Lara Croft Tomb Raider was filmed.
Enjoy Khmer set lunch followed by a soft drink or fresh coconut juice at a selected local restaurant.
Afternoon, continue to witness the marvelous Angkor Wat – the world's heritage listed by UNESCO in 1992 and the largest unrivaled monument in the world. Built by Suryavarman II in 12th Century, Angkor Wat is considered as one of the top destinations in Asia and is a must-see in your lifetime. Learning from your tour guide the amazing history, its ancestral incredible, architectural masterpieces and the finest carvings dates back to the Khmer Empire when it dominated the largest parts of Southeast Asia.
Note: Visiting beautiful sunset is available at Phnom Bakheng, please speak to our tour guide to manage this for you. This is a hiking up (Approx. 30 minutes/way) to the hill and it's always touristy or skip it if you feel tired.
Overnight in Siem Reap
*Meal Plan: Breakfast, Lunch
Day 7: Oxcart Ride, Kampong Phluk Village & Apsara Performance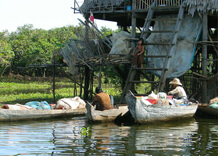 Breakfast is served at hotel. We head out of hotel at 8.00am for countryside sightseeing along with a visit at local market to see interesting trades. Next, we grab the opportunity by taking ox cart ride (short ride only) venturing through home gardens overlooking rice fields, interact the local people and come across animals, and stilt houses. Continue heading to Kampong Phluk village of Tonle Sap Lake. We process to take a boat trip along canal toward the centre of Kampong Phluk then the boat slows down to let you enjoy the surrounding admired by amazing houses atop high poles, come across the highlight of fishing activities as well as see people selling fruits/vegetable/meats on their boats, you sometimes see kids in student uniforms coming back from their classes. Witness how life works on the water and how people make the lake as home then we resume take canoe to explore the pleasant mangroves, enjoy the serenity while taking picturesque photos and you may see a few waterbirds. Continue by our main boat to see the great lake of Tonle Sap, learn from your tour guide about ecosystem and its rich biosphere reserve. Return hotel for break and refreshment.
Evening, transfer to have Khmer set dinner followed by traditional Apsara dance performance at a selected local restaurant.
Overnight in Siem Reap
*Meal Plan: Breakfast, Dinner Show

Day 8: Phnom Kulen Waterfalls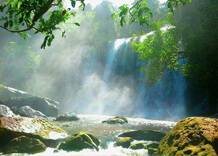 Breakfast is served at hotel. We leave hotel at 8.30am, heading out of the hassle Siem Reap city to visit one of Cambodia's national parks – popularly known as "Phnom Kulen" where you meet famous, beautiful waterfalls. Phnom Kulen (Mountain of Lychee) situates about 57km with approx. 1 hour drive, Phnom Kulen is regarded as the holy mountain for religious significance to Hindus and Buddhists and was the significant home of the ancient Khmer Empire when King Jayavarma II proclaimed independence from Java in 804 CE. The journey provides nice views of rice paddies, countryside dotting with palm trees and cattle. We will have a short visit at Preah Dak market to witness daily life of people selling their vegetables, meat and exchange the trades.
Enjoy the walking tour to see the giant reclining Buddha statue on the hilltop along with breathtaking, spectacular views and learn from your tour guide about historical site. Resume walking within the jungle to witness religious Hindu of the riverbed of 1000 linga carvings, next we move to observe the sacred ground-pool before we head to relax near the waterfall. From then, it is your own free time for cooling down, swimming and enjoying local lunch followed by fresh coconut juice. Late afternoon, we drive back to Siem Reap and on the way, we stop for a visit at palm sugar village and other various local handicraft souvenirs.
Overnight in Siem Reap
*Meal Plan: Breakfast, Lunch
If you don't like the waterfalls, you may consider to spend a half day for a forest trekking with Kulen elephants and learn the way of elephants live, play and roam followed by their natural habitat, relationships and behaviors.
Day 9: City Orientation, Silk Farm & Drive to Battambang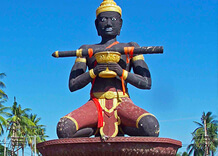 Breakfast is served at hotel. We go for guided orientation at the finest Artisan Angkor wood/stone carving center which displays various defined handicrafts and silk products, continue to stroll around Old market to see interesting daily trade as well as bargaining for local handmade products, paintings, lacquers, carvings, clothes, traditional crafts and so on.
Return hotel for refreshment and check out. We drive (2 ½ hours) to Battambang Province, we will stop to visit War Museum – a unique and insightful view of the perils that Cambodia faced during the last 3 decades of the 20th century and we stop at a road side for chances to dare of sampling deep-fried crispy insects including crickets, grasshoppers etc. Continue to Angkor Silk Farm for its famous workshop where you can observe local people produce the finest silk products, weaving activities, learn how they feed and take care the worms, and you will see various excellent silk woven items which you can purchase for family or friends when you fly back home. Check in at a booked hotel in Battambang and have free time.
Overnight in Battambang
*Meal Plan: Breakfast
Day 10: Battambang – Bamboo Train & The Surroundings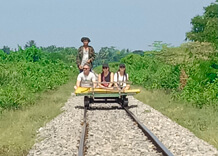 Breakfast is served at hotel. We set off at 8.00am to experience some fun on the famous bamboo train in Battambang, cruising on the track of the train rail while enjoying the highlight of rural landscape. Continue to wander around the infamous Prohoc market "Fermented Fish Market", observe rice paper making, have chances to try the taste of Cambodian rice wine and learn how it is made before drive to visit ancient temple of Wat Ek Phnom – an Angkorain temple built in the 11th century. Enjoy lunch at a local restaurant.
Afternoon, continue our journey to visit traditional wooden house which was built a century ago during French Era and have a short tour that reveals a very interesting background regarding to its history. We will stroll at Battambang winery (with grape wine tasting) before heading to Phnom Sampov where you enjoy the active walking at the top of the mountain to witness the killing caves and visit hidden caves of Battambang. Next, we wait at hillside to watch thousands of bats flying back to their caves in the red sky while the sun is setting down. Return hotel for refreshment and go out for dinner at a selected nice garden restaurant.
Overnight in Battambang
*Meal Plan: Breakfast, Lunch, Dinner
Day 11: Battambang to Phnom Penh by Private Car/Minivan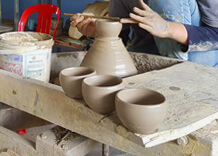 Breakfast is served at hotel. We go to see the morning highlights of Battambang, take some pictures of French colonial buildings and stroll around Battambang market where you can observe the local trading between vendors and buyers. Return hotel and check out then we drive with 6 hours to Phnom Penh Capital. One the way, we stop at Kampong Chhnang's local village where we learn from people producing pottery to generate their daily income as well as observing Silver Smith Making Village and handicrafts before reaching Phnom Penh.
Note: Our Siem Reap guide and driver will say goodbye to you after you checked in, the next day's tour will be taken care by our Phnom Penh team.
Overnight in Phnom Penh
*Meal Plan: Breakfast

Day 12: Phnom Penh – Tuol Sleng, Killing Field, National Museum & Sunset Cruise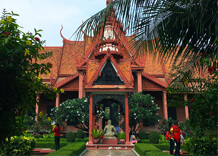 Breakfast is served at hotel. Today our guide and driver meet you at hotel's lobby at 8.00am then drive to witness the tragic site of Cheug Ek – the killing field that proceeded more than 20 thousands of civilians and the site is connecting with Tuol Sleng Museum – was the former school that was transformed to Tortured Prison S21. Stroll around Russian market for shopping.
Afternoon, we go for a guided tour at the National Museum, the world's most important collection of Cambodian antique sculptures and carvings. Next, continue to visit Wat Phnom with interesting legendary of founding place of Phnom Penh Capital. Return hotel refreshment and short break.
Evening, we head to Phnom Penh's Riverside then get on board with a welcome cocktail while the boat is slowly cruising along Mekong & Tonle Bassac, watch the nice sunset fading at horizon before Western set dinner (or buffet) is started to serve, unwind yourself with colorful Phnom Penh nightlights. Disembark and return hotel.
Overnight in Phnom Penh
*Meal Plan: Breakfast, Dinner Cruise

Day 13: Royal Palace & Market Tour By Rickshaw (Cyclo)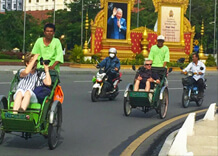 Breakfast is served at hotel. We leave hotel at 8.30am to take a challenge of cyclo ride (rickshaw) along riverfront for fantastic morning highlight of Phnom Penh Capital toward Independent Monument where we stop to capture some beautiful photos before resuming the ride to stroll around central market to see bustling local trades. Finished the cyclo ride at Royal Palace, we walk to visit The Royal Palace – a complex of buildings which are served as the royal residence for the King of Cambodia, admired by impressive Silver Pagoda with over 5000 solid silver tiles and other Royal Stupas, shrines, monuments etc.
Enjoy Khmer family set lunch at Bopha Titanic restaurant by Phnom Penh Riverside.
Return hotel and have your own free time in the afternoon.
Overnight in Phnom Penh
*Meal Plan: Breakfast, Lunch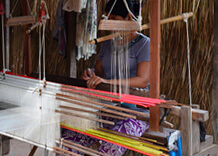 You may like to spend your afternoon to explore The Silk Island (Koh Dach).
The Silk Island is actually famed for its fine silk productions, sits by the River Bank of Upstream Mekong in Kandal Province and the Island houses numerous silk communities where visitors can learn more about silk process, feeding worms, a reliable place purchasing silk items, scarves, Sarong, handicrafts as well as a great home for you to reveal silk weaving history in Cambodia. Besides silk weaving activities, you have chances to see authenticity of Cambodia including lifestyle, gardening activities, feeding animals and other interesting insights.
Day 14: Phnom Penh - Departure
International flight is NOT included in the tour price.
Breakfast is served at hotel. Enjoy the rest of free time in Cambodia then our team will pick you up from hotel's lobby and transfers to Phnom Penh International Airport for your flight to the next destination.
*Meal Plan: Breakfast

Thank You
Goodbye Beautiful Southeast Asia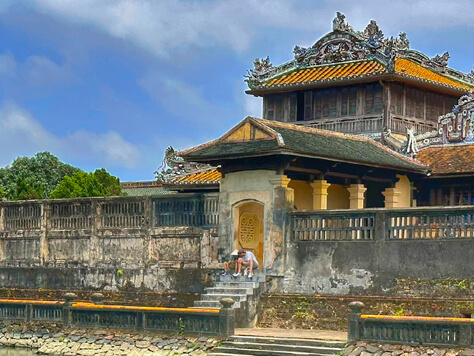 Classic Asia Discovery 21 Days
Thailand | Laos | Cambodia | Vietnam
Bangkok → Chiang Mai (+Chiang Rai) → Luang Prabang → Siem Reap → Saigon → Hoi An → Da Nang → Hue → Hanoi → Halong Bay
Guiding Asia Travel
Extremely focuses on Northern Thailand's Chiang Mai for cultural attractions, elephant sanctuary plus Chiang Rai's famous golden triangle. Followed by Bangkok Capital, visit the notable Grand Palace, impressive old Buddhist temples and a nice…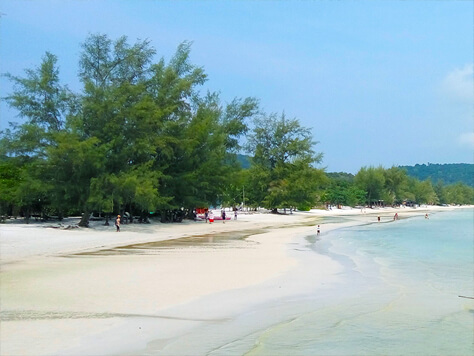 Thailand Cambodia with Beaches 23 Days
Thailand | Cambodia
Bangkok → Kanchanaburi → Ratchaburi → Chiang Mai → Chiang Rai → Siem Reap → Koh Rong Island → Kampot → Kep → Phnom Penh
Guiding Asia Travel
Extensively explore Thailand's Bangkok Capital together with the main attractions included impressive architecture of Grand Palace admired by sacred Emerald Buddha, oldest Buddhist temples, river cannels and famous floating market…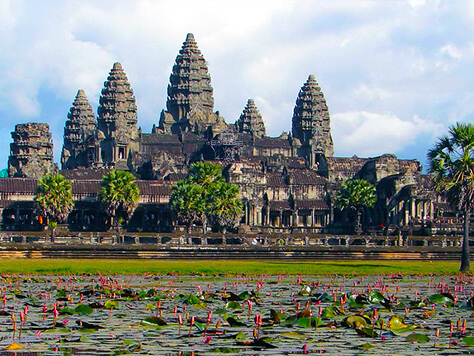 Experience Thailand & Indochina 14 Days
Thailand | Cambodia | Vietnam
Bangkok → Kanchanaburi → Ratchaburi → Chiang Mai (+Chiang Rai) → Siem Reap → Phnom Penh → Saigon → Mekong Delta
Guiding Asia Travel
For those who have limit of time for travel to see the fantastic Southeast Asia, our well-designed Thailand, Cambodia and Vietnam will not mostly disappoint you at all. It's an unforgettable holiday trips to discover the iconic Bangkok's main attractions…