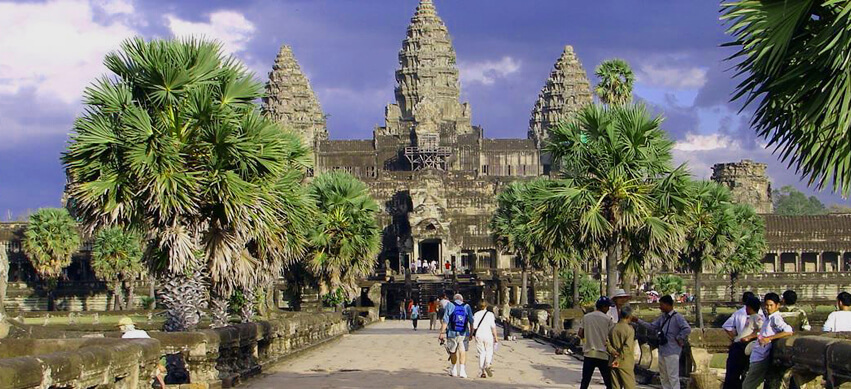 Relaxing Cambodia Trip 8 Nights / 9 Days
Tailor-made travel experience, customizable
This is more flexible and optional tour package for Cambodia included beach escape to less touristy Koh Rong Samloem Island, without hassle and free day which you can consider to choose what to see and do while you're on this private tour with us. Absolutely witness the best of Angkor Wat temple followed by other interesting ancient temple complex included Ta Prohm with stunning giant tree roots, with optional boat excursion to visit the largest freshwater lake "Tonle Sap" whose daily life animated by fishing activities in the stilt-house community and by canoe through the tranquil mangroves. Perfectly enjoy the relaxation on white sand beach of beautiful Koh Rong Samloen before heading to Phnom Penh Capital to visit the striking Royal Palace, historical site of S-21 prison, National museum, and experience the sunset cocktail and delicate dinner on a cruise on Phnom Penh River.
Guiding Asia Travel
Siem Reap → Koh Rong Samloem → Phnom Penh
Or Vice Versa
Day 1: Siem Reap – Arrival
International flight is NOT included in the tour price.
Our friendly team (guide and driver) will welcome you at the arrival gate upon your arrival at Siem Reap International Airport then transfers to a reserved hotel for check in and simply enjoy yourselves free time at hotel or explore central city by your own.
Overnight in Siem Reap
*Meal Plan: None

Day 2: Main Angkor Temple Complex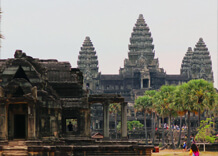 Breakfast is served at hotel. We're journeying out of hotel at 9.00am (or 9.30am) to the South Gate of Angkor Thom atop 4 giant faces that religiously represents compassion, sympathy, equanimity and charity. Stroll around Bayon temple consisting of more than 200 smiling faces in stone, admired. Resume the journey to visit Ta Prohm temple adorned with the stunning, amazing tree roots where Lara Croft Tomb Raider was filmed.
Enjoy Khmer set lunch followed by a soft drink or fresh coconut juice at a selected local restaurant.
Note: There are a lot of interesting ancient temples dotting in Angkor Thom wall included Baphuon, Phimeanakas, terrace of leper king and terrace of elephant for you to see around if you wish to. Please feel free to speak about this with our experience tour guide to manage those for you.
Afternoon, continue to witness the marvelous Angkor Wat – the world's heritage listed by UNESCO in 1992 and the largest unrivaled monument in the world. Built by Suryavarman II in 12th Century, Angkor Wat is considered as one of the top destinations in Asia and is a must-see in your lifetime. Learning from your tour guide the amazing history, its ancestral incredible, architectural masterpieces and the finest carvings dates back to the Khmer Empire when it dominated the largest parts of Southeast Asia.
Overnight in Siem Reap
*Meal Plan: Breakfast, Lunch
Day 3: Siem Reap - Free & Easy
Breakfast is served at hotel. Today is totally reserved as free and easy for your own exploration.
Or you may opt to enjoy Siem Reap tour activities or take half day optional tours to Tonle Sap floating village or lovely elephant camp at Kulen forest, rural oxcart ride, Sunrise Angkor Balloon or Unique Phare Cambodian Circus in the evening.
Overnight in Siem Reap
*Meal Plan: Breakfast

Day 4: Flight to Sihanoukville, Speed Boat to Koh Rong Samloem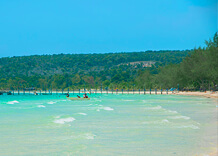 Breakfast is served at hotel. Simply have free time in Siem Reap until our team transfers you airport for flight to Sihanoukville City.
Upon arrival, you will be welcomed by our driver then takes you to boat pier, catch speed boat at 2.30pm (1 hour) to beautiful Koh Rong Samloem Island. Once you arrived at the pier in Koh Rong Samloem, the hotel staff will welcome and assist you with your luggage to the hotel/resort for check in and leisurely enjoy your own free time at the seaside.
Overnight in Koh Rong Samloem
*Meal Plan: Breakfast

Option for luxury stay at Royal Sand at Koh Rong Island
The Royal Sand Koh Rong is an exclusive villa resort spans a 550 meter stretch of pristine, soft, white sandy beach which descends into crystal-clear turquoise water. The resort is located an hour by the resort's own catamaran west of Sihanoukville in the Gulf of Thailand. Delicately choose from standard Oceanview Villa, Beachfront Pool Villa to 2 Bedrooms Oceanview Pool Villa either with half or full board meal options while enjoying the peaceful beach leisure with your families.
Day 5 - Day 6: Koh Rong Samloem - Beach Leisure
Breakfast is served at hotel. Today is completely reserved for your own free time by the seaside for sunbathing, swimming and relaxing.
Overnight in Koh Rong Samloem (2 nights)
*Meal Plan: Breakfast

Day 7: Back to Mainland & Private Car/Minivan to Phnom Penh Capital
Breakfast is served at hotel. Enjoy the rest of your free time in Koh Rong Samloem Island. Catch speed boat at 10.45am or 13.45pm back to the mainland then our awaiting car/minivan driver (no guide) transfers you with 2 hours via express highway to Phnom Penh Capital, check in and have your own free time.
Overnight in Phnom Penh
*Meal Plan: Breakfast

Day 8: Phnom Penh City Sightseeing & Dinner Cruise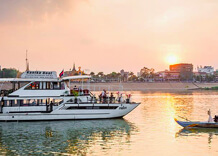 Breakfast is served at hotel. We leave hotel at 8.30am for fantastic morning highlight of Phnom Penh Capital toward Independent Monument where we stop to capture some beautiful photos before we walk to visit The striking Royal Palace – a complex of buildings which are served as the royal residence for the King of Cambodia, admired by impressive Silver Pagoda with over 5000 solid silver tiles and other Royal Stupas, shrines, monuments etc. Continue, we go for a guided tour at the National Museum, the world's most important collection of Cambodian antique sculptures and carvings.
Enjoy Khmer family set lunch at Bopha Titanic restaurant by Phnom Penh Riverside.
Afternoon, witness the tragic site of Tuol Sleng Museum – was the former school that was transformed to Tortured Prison S21. Stroll around Russian market for shopping before returning for hotel for refreshment.
Evening, we head to Phnom Penh's Riverside then get on board with a welcome cocktail while the boat is slowly cruising along Mekong & Tonle Bassac, watch the nice sunset fading at horizon before Western set dinner (or buffet) is started to serve, unwind yourself with colorful Phnom Penh nightlights. Disembark and return hotel.
Overnight in Phnom Penh
*Meal Plan: Breakfast, Lunch, Dinner Cruise

Day 9: Phnom Penh - Departure
International flight is NOT included in the tour price.
Breakfast is served at hotel. Enjoy the rest of free time in Phnom Penh then our team will pick you up from hotel's lobby and transfers to Phnom Penh International Airport for your flight to the next destination.
*Meal Plan: Breakfast
Thank You
Goodbye Beautiful Cambodia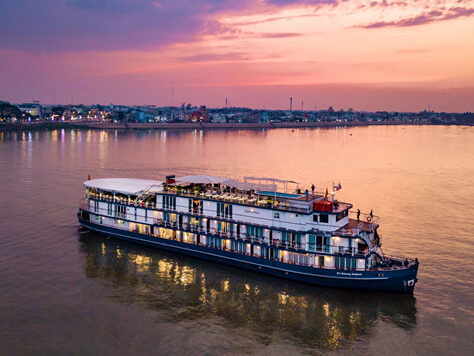 Vietnam Cambodia & Mekong Cruise 12 Days
Vietnam | Cambodia
Saigon → My Tho → Cai Be → Sa Dec → Tan Chau → Phnom Penh → Kampong Chhnang → Kampong Cham → Siem Reap → Angkor
Guiding Asia Travel
The fantastic land tour combines Mekong Cruise from Vietnam via My Tho in Mekong Delta, floating communities, fishing villages, both the mighty Mekong and Tonle River provide the best insight about Vietnam and Cambodia daily life of people…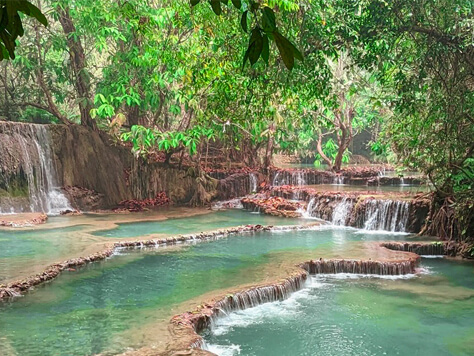 Indochina Classic Easy Tour 10 Days
Cambodia | Laos | Vietnam
Siem Reap → Luang Prabang → Saigon → Mekong Delta
Guiding Asia Travel
The flexible tour with multi options is basically designed for those who need easy travel experience to visit Cambodia, Laos and Vietnam without hassle which you can consider to choose optional trips to maximize your sightseeing and tour activities…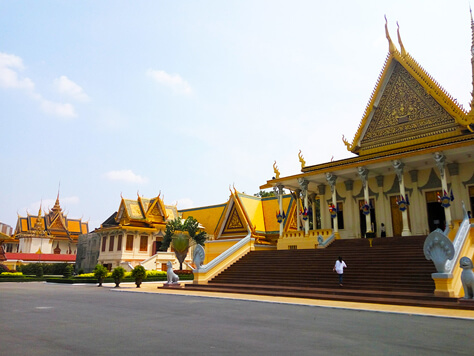 Easy Cambodia and Laos Tour 10 Days
Cambodia | Laos
Phnom Penh → Siem Reap → Luang Prabang
Guiding Asia Travel
The classic and easy trip is well-proposed free hassle travel package included two wonderful countries Cambodia and Laos. Basically begins in Phnom Penh Capital to visit the striking Royal Palace, historical site of S-21 prison, National museum, and…