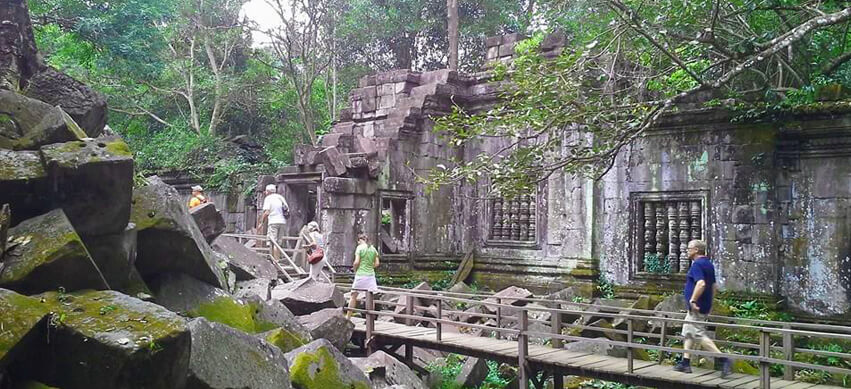 Wonderful Thailand & Cambodia 11 Nights / 12 Days
Tailor-made travel experience, customizable
Greatly grab the highlight of Bangkok Capital along with main tourist attractions to Grand Palace, impressive Wat Arun, happy shopping, railway market and the famous Damnoen Saduak floating market in Ratchaburi, by experiencing train to northern Thailand's Chiang Mai provide where we visit hill tribe villages, with soft trekking, fascinating temples and spend a lovely time with elephants before heading to Cambodia's Angkor Siem Reap we truly experience the best insightful Siem Reap from major Angkor complex to the lost ruined jungle temple of Beng Mealea followed by Tonle Sap Lake which features the most interesting stilt-houses on the high poles as well as its cluster of floating houses in the floating community. Blends of unique tour activities of biking (or by vantage jeep) to rural villages enhanced by oxcart ride and local lunch arranged by a host family, and spend a few hours to enjoy thrilling fun from one zipline to others while emerges yourselves in the tranquil Angkor Archaeological Park pampered by wildlife's songs before having delicate dinner and watch unique Phare Cambodian Circus that won the Guinness World Record.
Guiding Asia Travel
Bangkok → Chiang Mai → Siem Reap
Day 1: Bangkok – Arrival
International flight is NOT included in the tour price.
Our friendly team (guide and driver) will welcome you at the arrival gate upon your arrival at Suvarnabhumi International Airport then transfers to a reserved hotel for check in and simply enjoy yourselves free time at hotel or explore central city by your own.
Overnight in Bangkok
*Meal Plan: None

Day 2: Maeklong Railway Market & Damnoen Saduak Floating Market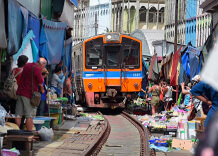 Breakfast is served at hotel. Our journey starts at 8.00am from hotel, drive with 1.15h to Samut Songkhram province which is famed for its Maeklong Railway market that you will observe interesting local life between vendors and buyers daily do their trade and exchange local goods at both sites of the train tracks and they suddenly pull down their canvas when the train approaches then put them back after the train passes by. Resume driving to Ratchaburi which popularly emerges the must-see Damnoen Saduak Floating Market where we will process to take a rowing boat to see the bustling activities along rivers and canals, colorful fruits, flowers, vegetables, snacks and other various items on local boats in this famous floating market in Thailand. Resume observe Thai locals make coconut sugar farm flowed by interesting skillful coconut works. We say goodbye to Ratchaburi then you may want to see salt fields with learning the processing of salt production on the way we drive back to Bangkok.
Overnight in Bangkok
*Meal Plan: Breakfast, Lunch
Day 3: Bangkok Highlight City Tour & Shopping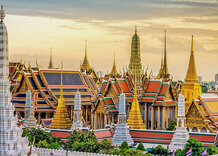 Breakfast is served at hotel. Today we begin at 8.00am for the amazing day to explore significant tourist attraction in central Bangkok City, visit Wat Traimit which houses the largest Golden Buddha statue in the world and catch the highlights of bustling China and Indian towns animated by interesting daily activities or you can stop by for a short visit when we drive pass to observe the Temple of the reclining Buddha in Wat Pho. Continue for a guided strolling at The Grand Palace which is popularly known as "The City Landmark" admired by the most impressive Emerald Buddha and other building complex that features unique architectural designs and cultural arts. Enjoy delicious Thai lunch at a selected local restaurant.
Afternoon, we drive to observe the remarkable Wat Arun which means Temple of Dawn which dates back to Ayutthaya Kingdom and continue to for your own happy shopping Pratunam Market or at Chatuchak Weekend Market (Fri-Sun).
Overnight in Bangkok
*Meal Plan: Breakfast, Lunch
Day 4: Nice Train Experience: Bangkok to Chiang Mai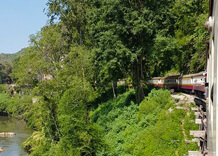 Breakfast is served at hotel. Check out and get transferred by our team at 7.45am for the day train at 8.30am to Chiang Mai. This is quite suitable for those who seek for nice experience of Thailand's beautiful sights by popular trains from bustling Bangkok Capital to the fascinating Northern Thailand's hilly jungles, panoramic landscapes and other impressive attractions on the way. The train journey takes approx. 11-12 hours and arrive in Chiang Mai's train station at 7:30-8:30pm.
Note: Food, drinks and snacks can be purchased on the train.
*Daily domestic flights (1 hr 15 min) are available upon request.
Upon your arrival, your will be friendly greeted by our team and transfer to a booked hotel for check in.
Overnight in Chiang Mai
*Meal Plan: Breakfast, Lunch
Day 5: Chiang Mai - Wat Phrathat Doi Suthep, Hmong Village & 3km Trekking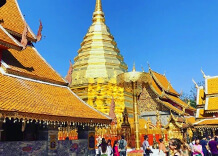 Breakfast is served at hotel. We start our wonderful Chiang Mai tour at 8.30am, drive up on Doi Suthep Mountain to visit the famous golden temple of Wat Phra That Doi Suthep standing 3500 feet above the sea level and it religiously houses Buddha relics then enjoy breathtaking the panoramic view over Chiang Mai City from the summit of Doi Suthep. Resume our journey to Black Hmong Village locates at the hillside, observe daily life of Hmong villagers admired by their interesting routine activities.
Lunch is provided at a local restaurant.
After lunch break, we continue driving down the hill for a pleasant trekking with 3km through jungle trails up and down towards the fascinating and less touristy Monthatan waterfalls hidden among the dense forest in Chiang Mai. Unwind and emerge yourselves with the stunning surrounding, get refreshed and enjoy swimming before heading back to the hotel in the evening.
Overnight in Chiang Mai
*Meal Plan: Breakfast, Lunch
Day 6: Chiang Mai – Full Day Elephant Nature Park
Breakfast is served at hotel. Be ready with your small light pack for pickup at 7.40am arranged by Elephant Nature Park. Enjoy a full day visit to Elephant Nature Park; a natural home and sanctuary for elephants, buffaloes, dogs, cats, birds and many other rescued animals. Your visit starts with a picturesque drive through rural countryside. You will hear the personal stories of rescued and orphaned elephants and see how they became a proud herd and free from abuse for the first time in their lives. Many find their visit to Elephant Nature Park rewarding and very relaxing. Observe free roaming elephants (no riding) and other rescued animals enjoying the natural surroundings of our sanctuary. Your visit helps support our regional projects and offers an invaluable opportunity of helping elephant conservation. We finish the tour and returning Chiang Mai between 5:00pm – 5:30pm.
What to Bring: Hat, Sunscreen, Sandals/Flip Flops, Shoes for walking, Camera, Bug Repellent, Refillable Water Bottle. (Rain Jacket – Rainy Season April – October).
Overnight in Chiang Mai
*Meal Plan: Breakfast, Vegetarian buffet lunch
Day 7: Chiang Mai - Flight to Siem Reap, Cambodia
Breakfast is served at hotel. Enjoy the rest of free time in Chiang Mai before our team transfers you to airport for flight (1 stop in Bangkok) to Siem Reap, Cambodia.
Our team (guide and driver) will friendly welcomes you at the arrival gate upon your arrival then transfers to a reserved hotel for check in and simply have yourselves free time at hotel or explore central city by your own.
Overnight in Siem Reap
*Meal Plan: Breakfast
Day 8: Full Day Guided Angkor Discovery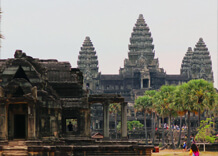 Breakfast is served at hotel. We're journeying out of hotel at 8.00am the South Gate of Angkor Thom atop 4 giant faces that religiously represents compassion, sympathy, equanimity and charity. Stroll around Bayon temple consisting of more than 200 smiling faces in stone, admired by interesting temples including Baphuon, Phimeanakas, terrace of leper king and terrace of elephant. Resume the journey to visit Ta Prohm temple adorned with the stunning, amazing tree roots where Lara Croft Tomb Raider was filmed.
Enjoy Khmer set lunch followed by a soft drink or fresh coconut juice at a selected local restaurant.
Afternoon, continue to witness the marvelous Angkor Wat – the world's heritage listed by UNESCO in 1992 and the largest unrivaled monument in the world. Built by Suryavarman II in 12th Century, Angkor Wat is considered as one of the top destinations in Asia and is a must-see in your lifetime. Learning from your tour guide the amazing history, its ancestral incredible, architectural masterpieces and the finest carvings dates back to the Khmer Empire when it dominated the largest parts of Southeast Asia.
Note: Visiting beautiful sunset is available at Phnom Bakheng, please speak to our tour guide to manage this for you. This is a hiking up (Approx. 30 minutes/way) to the hill and it's always touristy or skip it if you feel tired.
Overnight in Siem Reap
*Meal Plan: Breakfast, Lunch
Day 9: Half Day Countryside Biking (or by Vantage Jeep) & Oxcart Ride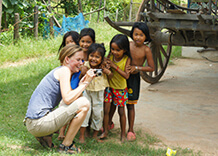 Breakfast is served at hotel. After bike ride introduction at 7.30am, we'll then we gently start cycling out of the hassle Siem Reap city with highlight of activities. The ride will be on the paved road about 7-8km passing Buddhist pagodas & school before we cycle along dirt road through local villages, see Khmer stilt houses, rice fields, vegetable gardens and you will be welcomed by kids saying "Hello" to you. The fantastic bike ride takes you to see authentic Cambodia while you're riding pass to interact local people, visit local market, have a lot of stop to take beautiful photos of huge rice paddies dotting with palm trees, cows and water buffaloes.
Once we arrive in a village, we process to have some fun on the oxcart ride (short ride) through the village to get interaction along with "Hello" from friendly kids. Disembark the cart, you'll be greeted by a host family at their home where we'll enjoy welcome fresh coconut juice and lunch, have short break or you can stroll around the family house to see animals and witness local daily life before we ride back to your hotel (you can request a minivan if you don't want to ride back).
Note: Vantage jeep is available upon request (surcharge) if you don't like cycling.
Overnight in Siem Reap
*Meal Plan: Breakfast, Lunch

Day 10: Zipline in Angkor Archaeological Park & Phare Cambodian Circus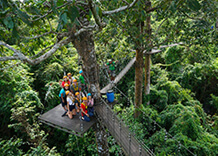 Breakfast is served at hotel. Go by our private car/minivan at a booked convenient time for a once in lifetime opportunity to experience a world-class zipline inside the UNESCO World Heritage designated Angkor Archaeological Park.
Spend 2 to 2.5 hours in the ancient jungles of Cambodia on a safe, educational adrenaline rush for the whole family. The entire adventure, from start to finish, is approximately 2 to 2.5 hours depending on the group size.
Surrounded by wildlife, butterflies, flowers, fauna, and towering trees, two of our certified Sky Rangers will lead you and your group of no more than 9 guests on a safe journey. We promise you a rain-forest Eco-adventure you will never forget.
The rest of the day is reserved as free at your own time.
Evening around 6.00pm, transfer to enjoy delicate family set dinner at nice garden Chanrey Tree restaurant by Siem Reap Riverside. Next, go to visit Siem Reap's most unique, authentic, top-rated entertainment! – Phare Cambodian Circus that won the Guinness World Record and it is the only unique Phare Circus performance (no animals) which is unlike any other circus in the world: theater, story, dance, high-energy music and circus arts, and impressively inspires Cambodia culture and arts etc.
Overnight in Siem Reap
*Meal Plan: Breakfast, Dinner

Day 11: Tonle Sap Lake & Beng Mealea Jungle Temple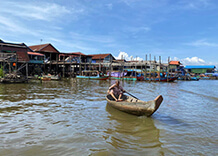 Breakfast is served at hotel. We leave at 8.00am and drive to Kompong Khleang village of Tonle Sap Lake. The journey passes interesting city highlight, countryside dotting with palm trees and on the way, we enroute to observe how famous bamboo sticky rice is produced, and you have chances to taste some bites of those delicious snacks. Once we arrive at the boat pier, embark a sheltered boat which slowly cruises along the canal and around the region that admired by amazing houses atop high poles, come across the highlight of fishing activities as well as see people selling fruits/vegetable/meats on their boats. Continue the boat trip to visit Kompong Khleang floating community, witness how life works on the water and how people make the lake as home and see the largest freshwater lake in Southeast Asia "Tonle Sap", learn from your tour guide about ecosystem and its rich biosphere reserve.
Lunch is served at a selected local restaurant.
Afternoon, we drive to visit the hidden Beng Mealea jungle temple amongst the real wilderness. Once we arrive, we walk to experience the guided adventure within the lush jungle to reveal the lost temple "Beng Mealea". Since the temple was constructed during the reign of king Suryavarman II in the early 12th century until then it's never been restored again. It provides wonderful adventure tour that you're going to climb over/down the ruined rocks, walking into the gallery to unlock the carvings and its interesting history of the Hindu temple related Angkor time. We then tranquilly capture picturesque photos before returning hotel.
Overnight in Siem Reap
*Meal Plan: Breakfast, Lunch

Day 12: Siem Reap - Departure
International flight is NOT included in the tour price.
Breakfast is served at hotel. Enjoy the rest of free time in Siem Reap then our team will pick you up from hotel's lobby and transfers to Siem Reap International Airport for your flight to the next destination.
*Meal Plan: Breakfast
Thank You
Goodbye Beautiful Cambodia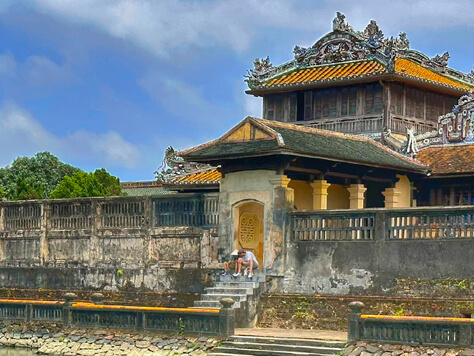 Classic Asia Discovery 21 Days
Thailand | Laos | Cambodia | Vietnam
Bangkok → Chiang Mai (+Chiang Rai) → Luang Prabang → Siem Reap → Saigon → Hoi An → Da Nang → Hue → Hanoi → Halong Bay
Guiding Asia Travel
Extremely focuses on Northern Thailand's Chiang Mai for cultural attractions, elephant sanctuary plus Chiang Rai's famous golden triangle. Followed by Bangkok Capital, visit the notable Grand Palace, impressive old Buddhist temples and a nice…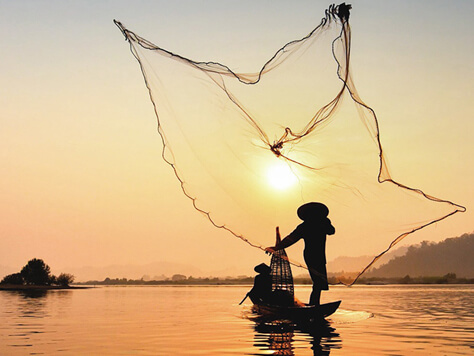 Explore Vietnam Cambodia & Mekong Cruise 2 Weeks
Vietnam | Cambodia
Saigon → My Tho → Cai Be → Sa Dec → Tan Chau → Phnom Penh → Kampong Chhnang → Kampong Cham → Siem Reap → Battambang
Guiding Asia Travel
Enjoy 7 nights cruise experience to see diverse Mekong River, Tonle Sap biosphere reserve and interesting river activities. Gently navigate from Vietnam's popular My Tho in Mekong Delta region admired by floating communities and fishing…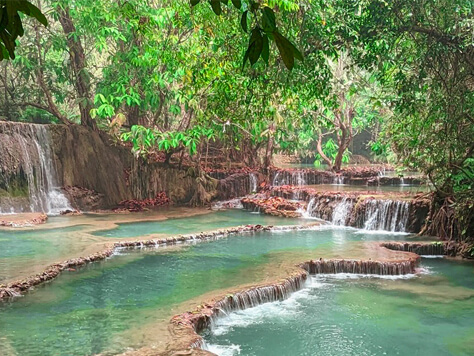 Indochina Classic Easy Tour 10 Days
Cambodia | Laos | Vietnam
Siem Reap → Luang Prabang → Saigon → Mekong Delta
Guiding Asia Travel
The flexible tour with multi options is basically designed for those who need easy travel experience to visit Cambodia, Laos and Vietnam without hassle which you can consider to choose optional trips to maximize your sightseeing and tour activities…