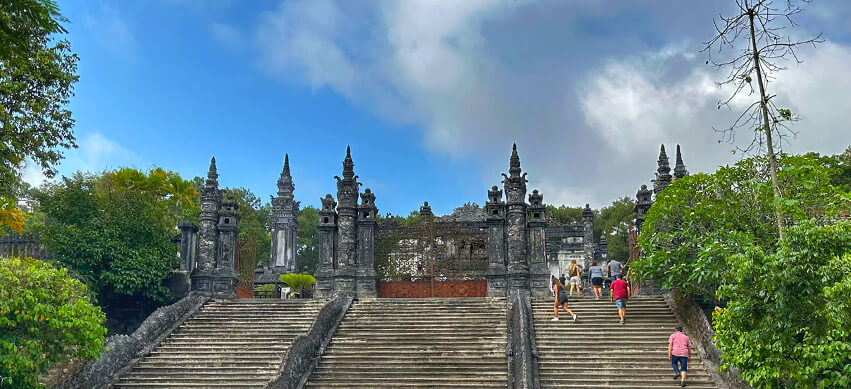 Wonderful Thailand & Vietnam Tour 19 Nights / 20 Days
Tailor-made travel experience, customizable
Considered as one of fantastic tailor-made tour to visit two wonderful countries: Thailand and Vietnam, witness the highlight of Bangkok Capital along with main tourist attractions to Grand Palace, impressive Wat Arun, happy shopping, railway market and the famous floating market in Ratchaburi, and the old kingdom of Thailand which is well-known as Ayutthaya Historical Park. Go further to the popular Pattaya City to see colorful nightlife and spend a free day for beach leisure. Ideally fly to Vietnam, see the vibrant Saigon city, the historical war site of Cu Chi Tunnels and the must-see Mekong Delta. Along with coastal cities, explore Hue Imperial Citadel followed by dinner cruise on the Perfume River, observe the heritage site of Old Hoi An town and go for Golden Bridge atop Ba Na Hills and Da Nang's white sand beach before heading to Hanoi for sightseeing tour, experience night train to Sapa town for pleasant trekking through Sapa's rice terraces to witness unique culture of Hmong villages. End with the pleasant time relaxing in a cruise on Halong Bay where it emerges spectacular natural beauty and limestone formation.
Guiding Asia Travel
Bangkok → Ratchaburi → Pattaya → Saigon → Mekong Delta → Hue → Hoi An → Da Nang → Hanoi → Sapa → Halong Bay
Or Vice Versa
Day 1: Bangkok – Arrival
International flight is NOT included in the tour price.
Our friendly team (guide and driver) will welcome you at the arrival gate upon your arrival at Suvarnabhumi/Don Mueang Airport then transfers to a reserved hotel for check in and simply enjoy yourselves free time at hotel or explore central city by your own.
Overnight in Bangkok
*Meal Plan: None
Day 2: Maeklong Railway Market & Damnoen Saduak Floating Market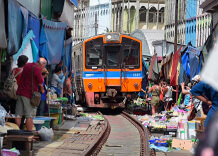 Breakfast is served at hotel. Our journey starts at 8.00am from hotel, drive with 1.15h to Samut Songkhram province which is famed for its Maeklong Railway market that you will observe interesting local life between vendors and buyers daily do their trade and exchange local goods at both sites of the train tracks and they suddenly pull down their canvas when the train approaches then put them back after the train passes by. Resume driving to Ratchaburi which popularly emerges the must-see Damnoen Saduak Floating Market where we will process to take a rowing boat to see the bustling activities along rivers and canals, colorful fruits, flowers, vegetables, snacks and other various items on local boats in this famous floating market in Thailand. Resume observe Thai locals make coconut sugar farm flowed by interesting skillful coconut works. We say goodbye to Ratchaburi then you may want to see salt fields with learning the processing of salt production on the way we drive back to Bangkok.
Overnight in Bangkok
*Meal Plan: Breakfast, Lunch
Day 3: Ayutthaya Historical Park with Temples
Breakfast is served at hotel. We set off at 7.30am from hotel to explore the ancient Kingdom of Thai Northern Bangkok. Ayutthaya is nowadays the main tourist destination, historical park as well as one of the UNESCO World Heritage sites. The first place we visit is Bang Pa-in Summer Palace along with the fascinating royal gardens and ponds, emerges in rich history and architectural styles which dates back Ayutthaya period. Continue driving to discover the significant temples and monasteries built in Ayutthaya Historical Park including Buddhist temple of Wat Chaiwatthanaram, beautiful 15th century temple of Wat Phra Sri Sanphet, the old ruins of Wat Lokayasutharam admired by the largest reclining Buddha and stroll with your guide to unlock centuries-old Buddha statues especially the Buddha head in the intertwined roots which is the most remarkable image in Wat Mahathat temple. Next, we pay our attention to the exquisite Wat Na Phra Men consisting of impressive the crowned Buddha in royal attire with the height of 6m and it's one of the most important, religious Buddhist temples that was greatly ever built in Ayutthaya era. Finally, we drive with 1 hour and half back to Bangkok.
Today's lunch is provided at a selected local restaurant.
*Note: If you love to see and feed elephants, today is a good chance for you and you should inform our tour guide about this. You need to get advise from tour guide on what fruits to buy before reaching elephant sanctuary.
Overnight in Bangkok
*Meal Plan: Breakfast, Lunch
Day 4: Bangkok Highlight City Tour & Shopping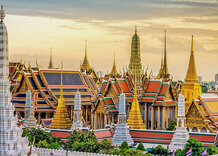 Breakfast is served at hotel. Today we begin at 8.00am for the amazing day to explore significant tourist attraction in central Bangkok City, visit Wat Traimit which houses the largest Golden Buddha statue in the world and catch the highlights of bustling China and Indian towns animated by interesting daily activities or you can stop by for a short visit when we drive pass to observe the Temple of the reclining Buddha in Wat Pho. Continue for a guided strolling at The Grand Palace which is popularly known as "The City Landmark" admired by the most impressive Emerald Buddha and other building complex that features unique architectural designs and cultural arts. Enjoy delicious Thai lunch at a selected local restaurant.
Afternoon, we drive to observe the remarkable Wat Arun which means Temple of Dawn which dates back to Ayutthaya Kingdom and continue to for your own happy shopping Pratunam Market or at Chatuchak Weekend Market (Fri-Sun).
Overnight in Bangkok
*Meal Plan: Breakfast, Lunch
Day 5: Bangkok to Pattaya by Private Car/Minivan & Sanctuary of Truth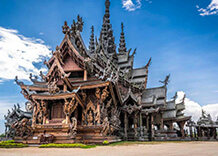 Breakfast is served at hotel. Check out and we leave hotel at 9.30am then drive with 2 ½ hours to the colorful Pattaya City. On the way, we will pay a worth visit to the Sanctuary of Truth which is truly admired its stunning  wooden carvings, Buddhist and Hindu arts, and overlooks the ocean. Check in into a booked hotel in Pattaya and simply have your own free time.
Overnight in Pattaya
*Meal Plan: Breakfast
Day 6: Pattaya - Completely Free & Easy
Breakfast is served at hotel. This day is reserved as free & easy for your self-directed exploration. Or make a boat trip to Koh Larn Island – a small island near Pattaya City, it has white sand beaches, clear water and coral reefs. You can enjoy water sports, snorkeling and scenic views.
Or at late evening, stroll around popular Pattaya pub street to see the vibrant nightlife or chill out by a tasty cocktail at a pub.
Note: No any tour activities or sightseeing is booked in this day.
Overnight in Pattaya
*Meal Plan: Breakfast
Day 7: Pattaya to Bangkok's Airport & Flight to Saigon, Vietnam
Breakfast is served at hotel. Enjoy the rest of free time in Pattaya before our team transfers you with 2 hours from Pattaya to Bangkok's airport for flight departure to Saigon, Vietnam.
Our team (guide and driver) will friendly welcomes you at the arrival gate upon your arrival then transfers to a reserved hotel for check in and simply have yourselves free time at hotel or explore central city by your own.
Overnight in Saigon
*Meal Plan: Breakfast
Day 8: My Tho – Mekong Delta Tour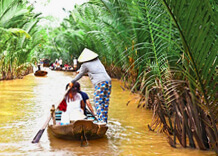 Breakfast is served at hotel. We set off 8.00am out of the bustling Saigon straight to My Tho boat pier where we process to embark a local motorboat which slides on Mekong Delta overlooking islets, fish farms and floating houses admired by fishing and trading activities on boats. In Unicorn Island, we will be pampered by Vietnamese traditional music depicting a folk art rooted from South Vietnam and get refreshed by tropical fruit tasting. Continue by canoe, we explore the natural beauty of Mekong canals with lush beautiful coconut trees stretching at both sides until we enjoy the walking tour to observe bee keeping farm and sample honey tea before having lunch. After lunch break, we catch our regular boat to coconut candy workshop to learn the processing of how coconut candies are made, along with a chance to taste and chew sweet candies or purchase a few packs before we get in our awaiting car/minivan and drive back to Saigon City in the evening.
Overnight in Saigon
*Meal Plan: Breakfast, Lunch
Day 9: Cu Chi tunnels & Saigon City Tour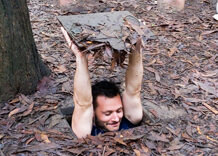 Breakfast is served at hotel. Today we begin our adventure trip at 8.00am out of bustling Saigon City, pass countryside to explore the famous attraction of Cu Chi tunnels which are known as the deadly dangerous trap tunnel networks and was used by Viet Cong army as the facility base to supply food, accommodation, storage, escape rooms as well as strong holes to fight against their enemies during French and American war from 1948 until 1975. Learn from your tour guide about this interesting and sad history of Vietnam, and personally experience the real feeling when crawl into the tunnels to reveal some remnants left after the war ended.
Enjoy Vietnamese lunch at a local restaurant.
Afternoon, we return for guided Saigon City along with War Remnants Museum that you can witness Indochina war history while browsing various items relating Vietnam War, visit the fascinating architecture of Reunification Palace which was the former workplace and residence of the President of the Republic of Vietnam, admired by French colonial buildings of Notre Dame Cathedral and Central Post Office, we then stroll at Jade Emperor Pagoda before go shopping at the famous Ben Thanh market where you observe trading exchanges and you can't absolutely ignore to purchase some souvenirs.
Overnight in Saigon
*Meal Plan: Breakfast, Lunch

Day 10: Saigon - Flight to Hue, Hue City Tour & Sunset Cruise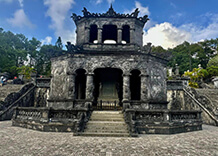 Breakfast is served at hotel. Have the rest of free time in Saigon before transferring to airport for flight to coastal city of Hue.
Upon arrival, you will be friendly greeted by our escort guide and driver then transfer to a booked hotel in Hue and simply have free time after check in.
Afternoon, we set off to explore the three significant mausoleum emperors of Minh Mang, Khai Dinh and Tu Duc, those tombs have unique blend French & Royal architectures along with interesting history that you can learn from your tour guide about Nguyen Dynast dates back to 12th century. We continue our adventure to Kim Long Village to observe local people making conical hats and colorful joss sticks.
Evening, we get on board for sunset cruise with a welcome cocktail, the boat cruise slowly slides along the Perfume River admired by soft evening at Hue imperial city before enjoying special dinner followed by Vietnamese traditional music performance on boat. Disembark and get our car/minivan back to the hotel around 8.45pm.
Overnight in Hue
*Meal Plan: Breakfast, Dinner Cruise
Day 11: Hue Imperial Citadel, Drive to Hoi An & Hoi An Street Food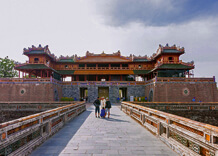 Breakfast is served at hotel. We're heading out at 8.00am to Dong Ba market where we stroll to observe citizen daily life with interesting local trades then continue to visit the world heritage site "Hue Imperial Citadel" which is considered as the most famous attraction along with unique architectures, detailed arts and works on walls, and a rich history which dates back to hundreds of years ago. The impressive structures, cultural decorates, Purple Forbidden City and the history definitely give your day a pretty worth visit. Next, we drive along The Perfume River to the attractive, religious Thien Mu Pagoda where you will have a pleasant walking to see beautiful surrounding and learn from your guide about its mystery legend.
Enjoy delicious Vietnamese lunch at a selected local restaurant.
Afternoon, we drive (approx. 3 hours) from Hue via Hai Van Pass to Hoi An Town, en-route at beautiful Hai Van Pass admired by natural beauty of mountain range and the blue coast where it's a good morning to take a wonderful breathtaking and capture picturesque photos. Arrived, checked in and have rest of free time.
Evening at 5.00pm, we process to the old town of Hoi An where we excitingly enjoy the walking street food tour to discover famous Vietnamese dishes including delicate Vietnamese sandwich called "Banh Mi", Barbecue pork rolled in rice paper and other yummy snacks (Banh Beo and Banh Khot). Continue to observe marketplace area with various local food stalls admired by interesting activities, we go zic and zac through small alley to Hoi An Riverfront to catch the night street highlight of cultural Hoi An town and cheerfully end up at a local restaurant for delicious dinner followed by a local beer.
Overnight in Hoi An
*Meal Plan: Breakfast, Lunch, Dinner
Day 12: My Son Sanctuary & Hoi An Ancient Town Tour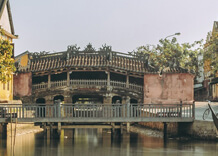 Breakfast is served at hotel. We set off at 8.30am to visit My Son Sanctuary which is a UNESCO World Heritage Site in Hoi An of central Vietnam, formally was the religious and political center of the Champa Kingdom from the 4th to the 13th century. The site contains over 70 Hindu temples dedicated to Shiva, known as Bhadreshvara. The temples are built of brick and stone and decorated with sandstone sculptures. Unlock temple historical and capture nice photos before returning Hoi An town for a tasty lunch at a selected local restaurant.
Afternoon, we'll discover the well-preserved old town of Hoi An which is known as a UNESCO world cultural heritage site because of its unique architecture that reflects both indigenous and foreign cultures. Start with the most remarkable Japanese Covered Bridge dates back to the 16th century, traditional Fujian Assembly Hall which gives a worth visit, continue to observe the exotic architecture of Tan Ky Old House, have an exciting walking in the colorful lantern street and take beautiful photos before visiting Hoi An central market where you can go shopping around.
Overnight in Hoi An
*Meal Plan: Breakfast, Lunch

Day 13: Hoi An to Da Nang – Marble Mountain, Ba Na Hills & Golden Bridge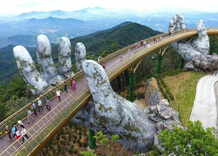 Breakfast is served at hotel. Check out, drive to Da Nang with spending a great sight to Marble Mountains which represent to five elements: water, fire, earth, wood and metal, also a home to religious pagodas, shrines and hidden caves. Enjoy climbing up with 108 steps to the top and tranquilly take a wonderful breathtaking with the spectacular views of Da Nang City, and we will go to explore a few hidden caves (or skip caves) and Tam Thai pagoda. If you're font of handicraft works, Tien Hieu Marble Handicraft Sculptures is an ideal for observation before resume our journey to Ba Na Hills where we discover the fascinating beauty of Da Nang City from the summit of popular Ba Na Hills. Once we arrived, we process to take cable car to observe variety of exciting places included Le Jardin D'Amour Flower Garden, the impressive Linh Ung Pagoda, Buddhist statue and walk inside the tunnel to visit wine cellar with a chance to taste a glass of wine. Continue to stroll at the must-see Golden Bridge where you capture the beauty of the sky, nature and enjoy the breathtaking while Golden Bridge is extremely considered as one of the most pleasant places to take romantic photos.
Note: buffet lunch is provided at one of restaurants in Ba Na.
Return to our awaiting car/minivan then we drive straight to a booked hotel in Da Nang for check in.
Overnight in Da Nang
*Meal Plan: Breakfast, Lunch

Day 14: Da Nang – My Khe Beach & Flight to Hanoi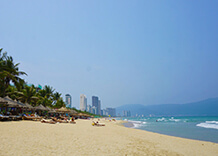 Breakfast is served at hotel. Today our team picks you up at hotel's lobby then transfers to My Khe beach – one of the most beautiful, natural coastal cities in Vietnam. It is a white sand coast with clear water and a pleasant beach for relaxing, swimming, sunbathing and unwind yourselves at your own free time before taking afternoon flight to Hanoi Capital.
Upon arrival, you will be friendly greeted by our escort guide and driver then transfer to a booked hotel in Hanoi and simply have free time after check in or make your own strolling around city for highlight.
Overnight in Hanoi
*Meal Plan: Breakfast
Day 15: Hanoi City Tour, Hanoi to Sapa By Sleeping Train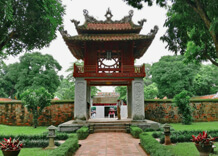 Breakfast is served at hotel. We set off at 8.00am for a fully guided tour within Ba Dinh Square, visit the main attractions included the famous Ho Chi Minh Mausoleum, One Pillar Pagoda with most interesting architecture and 10th century Temple of Literature – the first national university of Vietnam along with rich history.
Enjoy delicious lunch at Hoang Cuisine restaurant (or similar).
Afternoon, we observe Hoa Lo Prison which tells you an interesting war from French colonial time to Vietnam and American War. Continue to visit Vietnam Museum of Ethnology – the significant place to witness the best collection, documentation, exhibition and preserving the cultural and historic patrimony of Vietnam's 54 ethnic groups. Next, we take rickshaw (cyclo) explore the popular Old Quarter admired by attractive daily life and bustling local activities. Ending the cyclo ride at Thang Long Opera Theatre, we then enjoy a traditional, unique water puppet show.
Our team will meet you again at hotel's lobby then transfer to train station for sleeping train (air conditioning cabin) departs at 10.00pm to Lao Cai town of Sapa and arrives at approx. 6.30-7.00am in the morning in Lao Cai.
Note: Private car/minivan (day time) is available upon request and the program will be slightly changed.
*Overnight in sleeping train
*Meal Plan: Breakfast, Lunch
Day 16: Sapa Trekking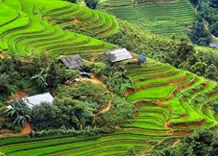 You will be greeted by our escort guide and driver then drive with 1 hours to a booked hotel in Sapa Town for refreshment and enjoy breakfast.
After the breakfast break, we begin a pleasant trekking with 11km down, up and along Muong Hoa Valley to the villages of Y Linh Ho, Lao Chai and Ta Van where we're gonna reveal the attractive insights of Black H'mong minority groups whose daily life relies basic routine and their unique ways to make a living that animated by their exotic culture and customs. We enjoy the walking though beautiful rice terraces along with interesting activities and local interaction from one to other villages where you always see the fascinating surroundings that you can't refuse to take photos. During the trekking adventure, we'll have a great chance to enjoy our picnic lunch at a local family's house and sample some tropical fruits.
Afternoon, spend the rest of your nice time at family house then we take a ride by motorbike or jeep back to Sapa town.
Overnight in Sapa
*Meal Plan: Breakfast, Picnic Lunch
Day 17: Sapa Trekking & By Sleeping Train to Hanoi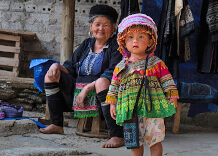 Today we leave again by our private car/minivan to Ta Phin Village – one of the most beautiful H'Mong villages where we catch the morning highlight of ethnic culture and continue to expand maximize experience to visit Ta Phin Cave nearby. Next, return to Sapa town for the last trekking trip up and down with 3km to Cat Cat village to witness rural life of Black H'Mong village, learn from your guide about their daily interesting activities, culture, customs and superstition, the trekking offers a wonderful experience to see one of the best H'Mong village attractions in Sapa while the surroundings are friendly fabulous and attracted by rice terraces, river and mountains, and enjoy traditional music show at Cat Cat village. Up to Ham Rong Mountain summit, we enjoy the breathtaking with the stunning panoramic views of Sapa and it is totally admired by the fascinating nature. Picnic lunch is provided on this day.
We say goodbye to Sapa then drive directly to Lao Cai for the night train back to Hanoi.
Exciting information: If you're lucky on the day you take night train back to Hanoi, Bac Ha Sunday market is the most popular attraction in the region of Sapa which only opens on Sunday, along with the most interesting exchange trades of animals, poultry, materials, cloths, handicrafts and vegetables between buyers and vendors from various ethnic minority groups. It's good chance to stroll around to observe lifestyles of tribe people and you probably want to sample a dish of delicious H'mong traditional dishes.
Overnight in sleeping train
*Meal Plan: Breakfast, Lunch
Day 18: Hanoi – Halong Bay Cruise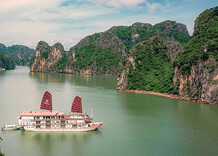 You will be greeted by our escort guide and driver at railway station then transfer to a booked hotel for refreshment and enjoy breakfast.
*(Private car/minivan round trip transfers Halong Bay is available upon request).
Prepare yourselves with light packing ready to be picked up by shuttle bus between 8.00-8.30am at your hotel and start your trip to explore the most amazing Halong Bay in the North of Vietnam. On the way, we will have a quick stop in the middle of the way to rest. We will reach Halong cruise port around 12.30pm then process the registration and get transferred by tender to Swan Cruise. After safety brief, a welcome drink and checking in, delicious Vietnamese set menu will be served while leisurely cruising further into Bai Tu Long Bay, enjoy kayaking through the karst and breathtaking nature, swimming and relaxing before getting back to the cruise for sunset party.
Evening, have sumptuous set dinner on board and it's your free time to challenge yourself in Vietnamese puzzle games, or gathers your group/family for a board game; try your luck with squid fishing or simply have a cocktail and enjoy the quiet night on the bay.
Overnight in Cruise Halong Bay
*Meal Plan: Breakfast, Lunch, Dinner
Note:
There are many cruise companies operate from standard to luxury cruises to Halong Bay and every cruise companies have their similar cruise itineraries. The above cruise itinerary is detailed according to Swan Cruise's standard itinerary. If you chose to stay at another cruise, cruise itinerary will then be provided at the time you confirmed. If you really love Halong Bay and want to stay a night longer, 2nights/3days cruise is available, so feel free to speak about this with our sale team.
Day 19: Halong Bay Cruise, Back to Hanoi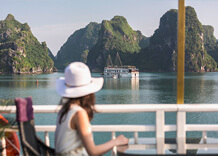 Rise a bit early in the morning for Sunrise Tai-chi section on sundeck or catch a morning view of the stunning bay's landscape with a cup of tea or coffee.
Breakfast will be served in Western style, familiar to you to fulfill your strength and ready for another exploring day to the well-hidden Thien Canh Son Cave for an hour then return to the boat you will have about 30 minutes to freshen up and finish packing.
Around 10.00, attend a Vietnamese cooking demonstration. You can quickly learn a simple but delicious Vietnamese dish or challenge yourself in fruit and vegetable carving. Next, we enjoy a traditional Vietnamese lunch on the boat while the cruise is heading back to the harbor and disembark at Halong cruise port. At 12.30pm: our shuttle bus will take you back to Hanoi and arrive in the evening around 16.00-17.00pm.
Overnight in Hanoi
*Meal Plan: Breakfast, Lunch
Day 20: Hanoi - Departure
International flight is NOT included in the tour price.
Breakfast is served at hotel. Enjoy the rest of free time in Vietnam then our team will pick you up from hotel's lobby and transfers to Noi Bai International Airport for your flight to the next destination.
*Meal Plan: Breakfast

Thank You
Goodbye Beautiful Southeast Asia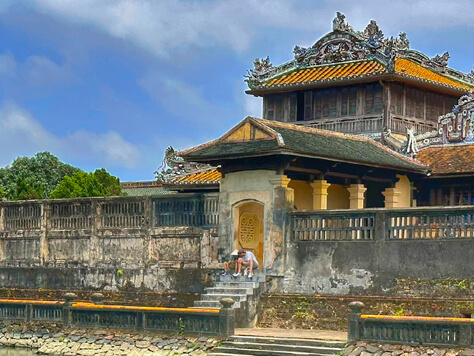 Classic Asia Discovery 21 Days
Thailand | Laos | Cambodia | Vietnam
Bangkok → Chiang Mai (+Chiang Rai) → Luang Prabang → Siem Reap → Saigon → Hoi An → Da Nang → Hue → Hanoi → Halong Bay
Guiding Asia Travel
Extremely focuses on Northern Thailand's Chiang Mai for cultural attractions, elephant sanctuary plus Chiang Rai's famous golden triangle. Followed by Bangkok Capital, visit the notable Grand Palace, impressive old Buddhist temples and a nice…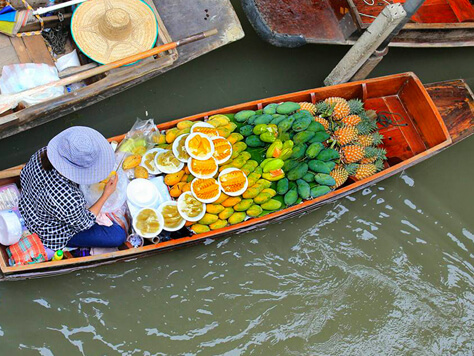 Venture Thailand & Myanmar Tour 16 Days
Thailand | Myanmar
Bangkok (+ Ratchaburi) → Chiang Mai → Chiang Rai → Yangon → Bagan → Mandalay
Guiding Asia Travel
A great adventure Asia trip to explore two wonderful countries Thailand and Myanmar, ideally includes Bangkok Capital along with Grand Palace, beautiful Wat Arun, exciting long-tail boat through canals to Thonburi, interesting railway…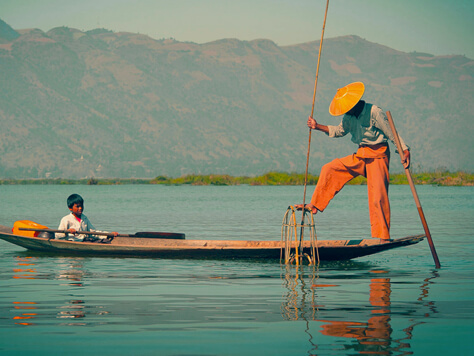 Thailand Myanmar Adventure Tour 18 Days
Thailand | Myanmar
Bangkok (+ Ratchaburi) → Chiang Mai → Chiang Rai → Yangon → Inle Lake → Bagan → Mandalay
Guiding Asia Travel
Memorably experience the greatest adventure trip to amazing Thailand and Myanmar, ideally includes Bangkok Capital along with Grand Palace, beautiful Wat Arun, happy shopping in Bangkok, interesting railway market and the famous…